Freedom Holding Corp. Releases Its Q3 FY 2021 Report: Better Market Position
Freedom Holding, Corp. released its financial report for Q3 FY 2021 on February 10. This report covering the company's business activity from September 30 to December 31, 2020 proved Freedom Holding's stable growth in key financial metrics and its better market position.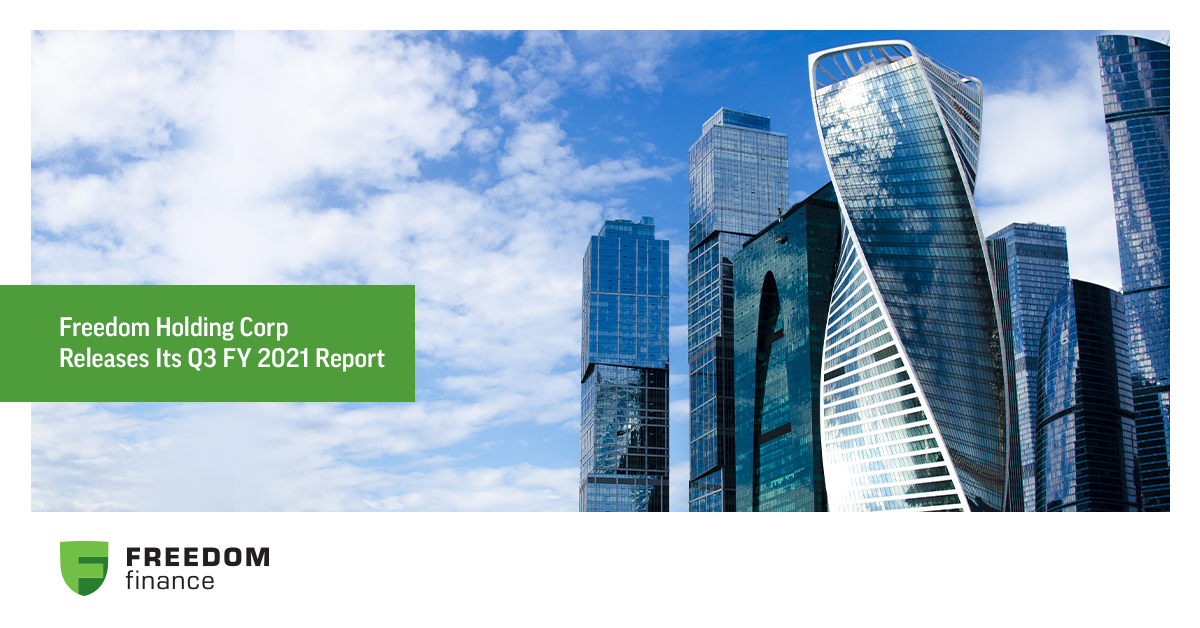 Freedom Holding Corp. is now home to even more retail investors, as over 229,000 new client accounts were opened over the reporting period, which is 34,000 more than during the previous quarter.
Meanwhile, the key financial figures changed as follows:
The earnings amounted to $100.20M, which is $70.70M more than over the same period in 2019 ($29.60M). Thus, the earnings increased by a massive 239% due to the commission income going up from $20.60M to $74.30M, or by 261%. Meanwhile, the security operation income skyrocketed from $6.40M to $18.90M, or by 194%.
The net profit reached $42.30M against $4.10M over the same period in 2019.
The EPS came at $0.72 against $0.07 in Q3 2019. This is based on the weighted average of the number of shares, which is 58M.
Other total income amounted to $49.20, while back in Q3 2019, this number was at 7.90M.
The assets and liabilities went up by $397.10M.
Finally, the expenses also came at a higher number compared to Q3 2019, namely by $24.60M, or 96%.
Why Did the Expenses Increase?
This is as expected. With many new clients and, subsequently, many more transactions, the commission expenses went up by $14.80.
Meanwhile, with paid and accrued interest on brokerage and bank accounts and the short-term financing costs through repurchase agreements on regular and debt securities, the interest expenses increased by $3.90M.
Moreover, with the business expansion, the operating expenses also rose, adding $4.90M.
Timour Tourlov, CEO at Freedom Holding Corp., commented on the positive results in Q3 FY 2021:
The period the report refers to was very much eventful. For us, Q3 meant both stable earnings and net profit increase and the company's structure expansion. In December, we completed the acquisition of Kassa Nova Bank, which is currently named Freedom Finance Kazakhstan Bank. In the same month, we acquired Prime Executions, a US based brokerage company, which helps us establish more global presence and develop our business in the US market. Overall, the results are quite good, and we'll strive to follow this trend moving forward.