Invest in IPO's with a Single Click: New CEF IPO Available!
FIPO, an exchange traded fund that invests into US, European, and Asian companies' IPO's, started trading in the Saint Petersburg Stock Exchange. The fund is managed by Vostok-Zapad, a Russian based company, while Freedom Finance acts as a market maker.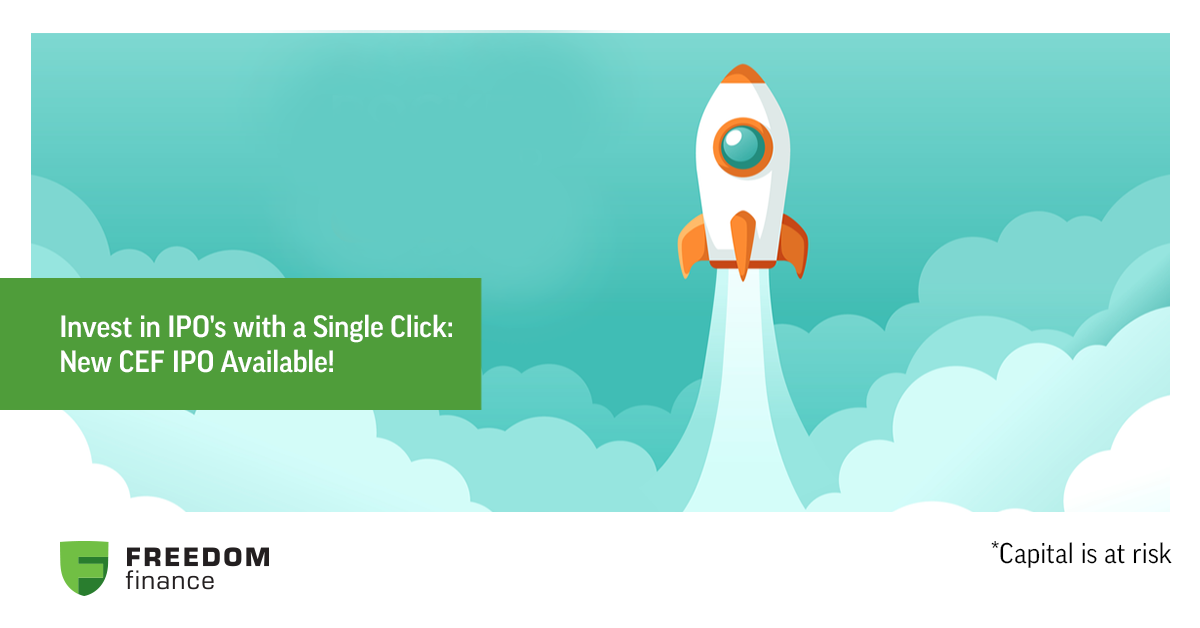 Starting from July 23, 2020, the fund owns equal shares in all IPO's recommended by Freedom Finance analysts. The shares purchased during an IPO are immediately sold once the lockup period is over; the proceeds are invested in new IPO's, while the remaining funds are invested into low risk bonds. The trading strategy is based on algorithms and is free from any subjective assessments.
Why Trade CEF Shares instead of IPO's?
CEF has no allocation, which means you can buy shares for an entire amount you want to invest. Meanwhile, when you directly invest into an IPO, your order is likely to get filled with a smaller amount than requested. This is because IPO's often cause market hype, and the investors want to buy more shares than are actually issued.
The price of CEF shares goes up with the fund's net assets value and the investor interest. The rise may continue as the fund is trading new successful IPO's.
Trading CEF means lower commissions compared to direct IPO trading. Besides, you don't need to separately participate in all IPO's and pay commissions each time you do so.
Fund shares can be bought at any time, while trading a regular IPO is very difficult to plan. The information on an upcoming IPO may appear just before the deadline, after which you will no longer be able to trade it. Not all investors keep that watchful eye on the news and have a required investment amount on their account. Some also do not have time to open an account and fund it; as a result, they might miss the opportunity to trade highly profitable IPO's.
With CEF, you automatically invest into all IPO's recommended by Freedom Finance analysts. Just a small reminder: we recommended 132 IPO's since 2012, and their average return at the end of the 93-day lockup period amount to 50%. Building a diversified IPO portfolio has never been easier!
How to Buy CEF IPO?
Before you start investing, we highly recommend you checking out the fund's Key Information Document (KID), which you can find on our website. From this document, you can find out all information about the fund, compare risks, benefits, and costs of various instruments. Please note that the KID is available only in English.
The fund is traded in US dollars in the Saint Petersburg Stock Exchange as FIPO.SPB. To buy CEF IPO shares, you need an investment account with Freedom Finance. If you don't have one yet, open it now: this can be done online, in just 10 minutes. All you need to do is fill out a short form and verify your account.
After opening an account, you can buy CEF IPO shares in either of the following ways:
Freedom24 Online Store:This is the easiest way to do it. Add the number of shares you want to buy to the cart and pay by credit card. Once the transaction is processed, the purchased shares will appear on your investment account.
Freedom24 Web Platform: In the Web Terminal section, type FIPO.SPB in the search box, and select the CEF name in the search results. Open a secure session in the trading window on the right, select the number of shares you want to buy, and click Buy.
Freedom24 iPhone or Android App: Go to the Price screen and tab the search icon in the top right corner. In the search box that will show up, type FIPO.SPB and select the CEF name in the search results. You will then see fund in the market watch; tap it and go to the Order tab in the dialog that shows up. Specify the number of shares you want to buy and click Buy.
Buy CEF IPO and invest into all promising IPO's with a single click!

*Capital is at risk. Investment in IPO may involve additional restrictions, please refer to the Terms of business.