A Year in the Nasdaq: Freedom Holding Corp. Stock Soars by 89%
On October 15, 2019, i.e. 12 months ago, Freedom Holding Corp. stock started trading in the Nasdaq as FRHC. This was a big step forward, as we became the first stock broker in the EU to be listed in the world's leading technology exchange, with our stock trading alongside Apple, Facebook, Google, Microsoft, and other tech giants.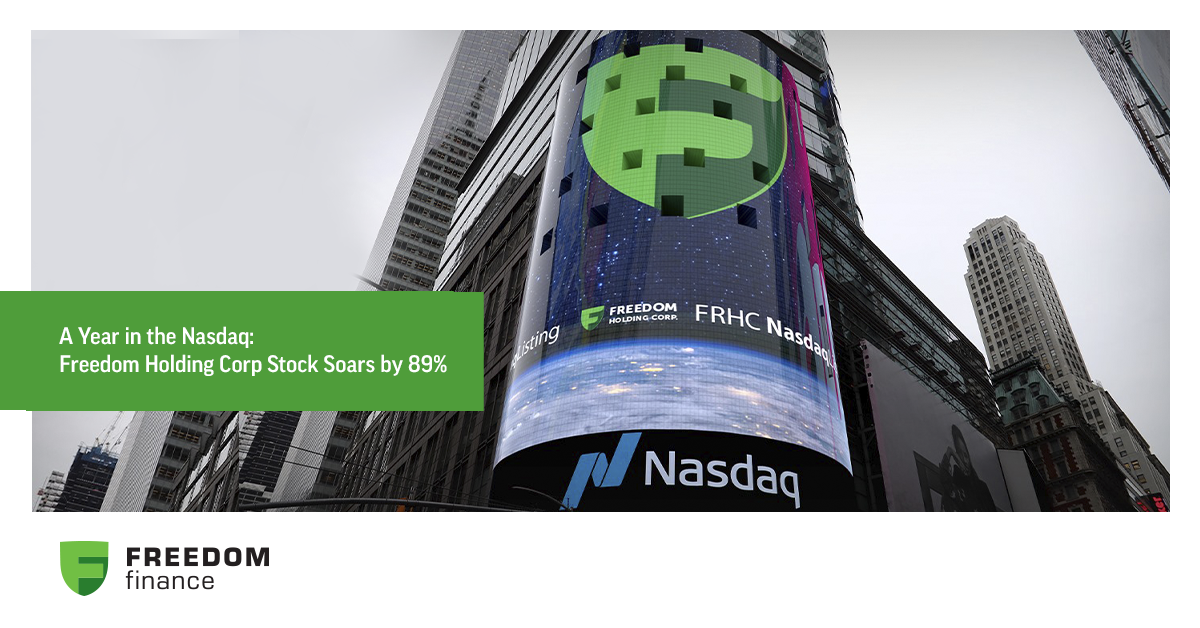 A year later, we are happy to share the results with you. When the trading started on October 15, 2019, the FRHC stock price was $14.42 per share; as of October 15, 2020, the price went up by 89% to reach $27.24. For comparison, over the same period, the S&P500 rose by 17.10%, the DAX, by 1.10%, and the FTSE even slipped by as much as 19.10%.
The trading volume of FRHC shares has increased significantly since the stock for listed. Over these 12 months, the holding expanded its investor base in the US and was able to bring in new shareholders. To date, the largest shareholders of Freedom Holding Corp. are Blackrock, Goldman Sachs, Renaissance, Bank of America, Arrowstreet, Allianz SE, Bank of America, Citigroup, and other financial giants. Freedom Holding Corp. market cap exceeded $1.5B in October 2020.
All this means huge potential for further active development.
The results of FY 2020 that ended on March 31, 2020, are the following:
Net profit reached $22M, and was up by $15M, or over 200%, compared to 2019
The EPS are up by $ 0.38
The assets and liabilities went up by $102.60M
In Q1 FY2021, which ended June 30, 2020, we delivered even more impressive results:
Net profit went up to reach $24.30M
The EPS rose to $0.42, or +200% compared to the last year results
Assets increased by $716M, compared to March 31, 2020
12,000 new accounts were registered, the total number amounting to 152,000
The latest achievements of the holding include the following:
Freedom Finance Europe joined the Association for Financial Markets in Europe (AFME)
S&P Global Ratings, an international rating agency, confirmed the long-term and short-term credit rating of Freedom Finance at B-/B, with a stable outlook
Freedom Finance was acknowledged as the best investment company in Russia according to Spear's Wealth Management Awards
The holding's analysts are recognized as the best in Central Asia by Global Banking and Finance Review
Freedom Finance experts ranked first in the global Bloomberg rankings for the accuracy of their Beyond Meat and Zoom Video Communications stock price predictions.
The Freedom Holding Corp. team is currently focused on maximizing the financial performance and sustainable future development. Thank you for your trust and support!