Easier and faster: a large update on Freedom24.com
We launched a massive Freedom24.com update in early June, where all Freedom Finance investment products were brought into a unified ecosystem. You now can buy shares through a method convenient to you, either by credit card or through the trading platform. We also enabled one-click selling, applying for IPO trading in the company page, trading with the investment ideas by Freedom Finance analysts, and monitoring dividend payments.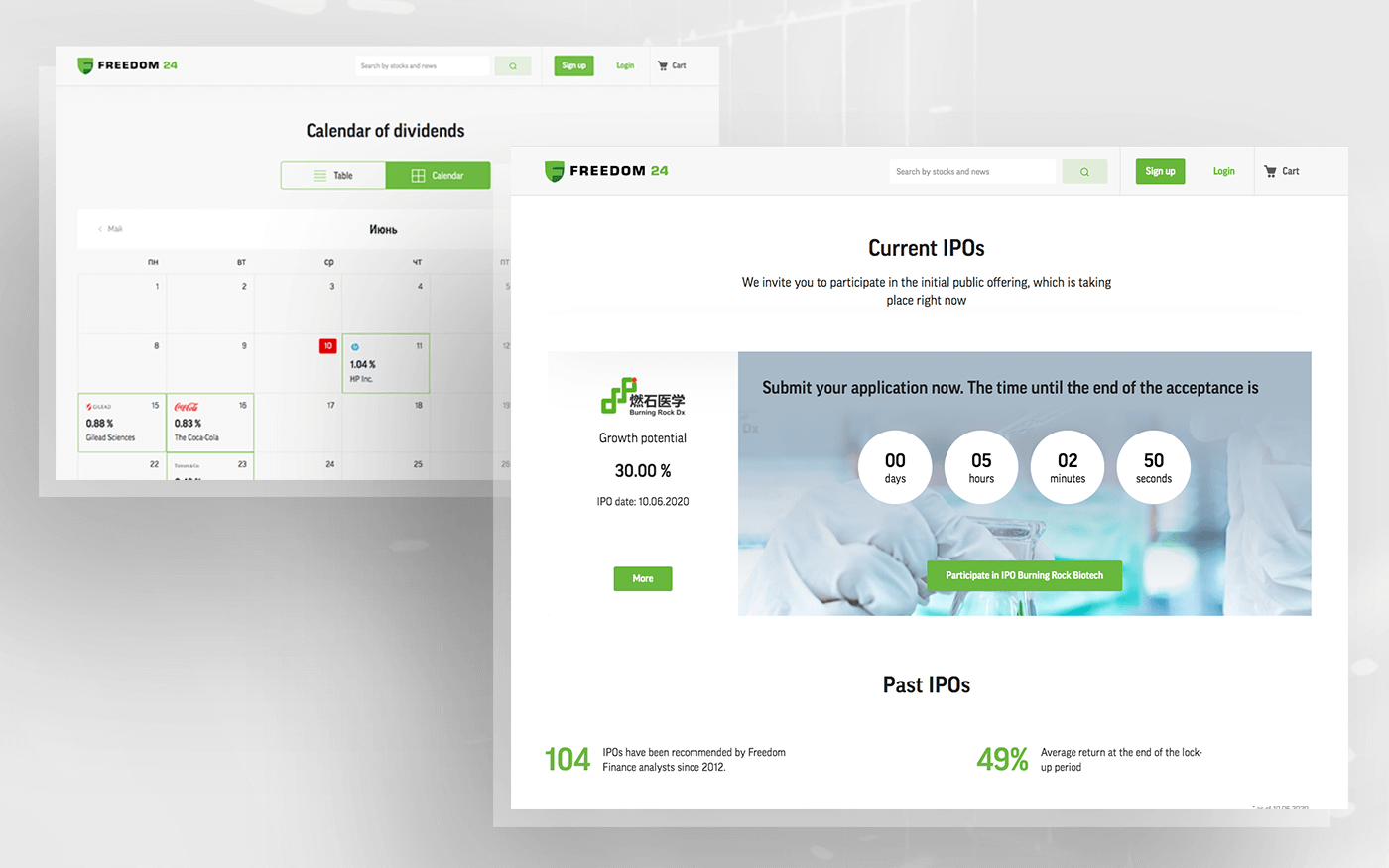 Meet the New Freedom24.com:
✔ IPO Section Revamped: Each IPO now has a dedicated page with the company details and an application form. Review the company business information, its growth potential, and Freedom Finance analysts' recommendations. Specify the amount and apply to trade on the respective IPO page, without even logging in to your member area!
✔ Account Opening Process Simplified: Thanks to Sum&Substance KYC service integration, opening an account with Freedom Finance is now automated and takes just a few minutes. Fill out a short form, take a picture of your ID, proof of address, and yourself, and here you go: your account has been opened!
✔ A New Investment Ideas Section by Freedom Finance Analysts: Raising your portfolio yield has never been easier! View weekly trading ideas, add shares to cart, and pay by credit card or with your account funds. As a side note: Freedom Finance recommendations on Beyond Meat and Zoom Video were rated number one by Bloomberg as the closest prediction in May!
✔ A New Dividends Section: Want to generate passive income? You'll find the stocks with the highest dividend yield here. Besides, you can monitor the shareholder registry closing dates and enable notifications, so as not to miss the upcoming dividend payouts.
✔ Company Profiles Reworked: You can now view the profit potential, dividend yields, and recommendations by Merrill Lynch, J.P. Morgan, and 50+ more large investment banks for each stock. Study the buy reasons, view the key indicators, and analyze the price chart. Ready to invest? Add the shares to cart, pay them by your credit card, and you're all set: the shares have been credited to your Freedom Finance investment account!
✔ New Section: My Portfolio: View your account balance, free margin in various currencies, and the shares you bought, all in one place! Analyze the financial results for each stock, exchange currencies, buy more stocks, or sell them at the current market price with a few clicks.
✔ Mobile Website Version Reworked: New Freedom24 App Features Added.
✔ Freedom Finance News: Our recent news includes our company market cap exceeding $1B.
✔ New Section: My Orders: Track your online store order status.
✔ Improved Design and Navigation: The pages are loading faster, and getting to the section you are looking for is a breeze.
✔ Minor Improvements Making Investing through Freedom24 Easy and Convenient: Among other things, this includes buying the securities directly from search and a reworked Orders section.
Making lucrative investments with Freedom Finance has never been easier.