Twilio: 8,3% Yield Potential with Communication Industry Growth Triggered by Pandemic
Twilio: 8,3% Yield Potential with Communication Industry Growth Triggered by Pandemic
Full Company Name: Twilio Inc
NYSE Ticker: TWLO
Current Price: $227
Entry Point: $228.80
Target Price: $249
Projected Yield: 8.3%
Time Line: 1 to 3 months
Risk: High
Company Profile
Twilio Inc is a cloud platform developer based in California. Twilio enables making and receiving calls through software, as well as send and receive text messages and perform other communications through web API.
What's the Idea?
With the news background, the stock has approached the entry point at $31.30, with around 8,3% yield potential.
● Northland Securities leaves the Outperform rating unchanged.
● Twilio's CFO has recently said the general outlook is "moderately optimistic", especially in terms of e-commerce, healthcare, education, and charity sectors.
● The company highly values the unique TWLO market position.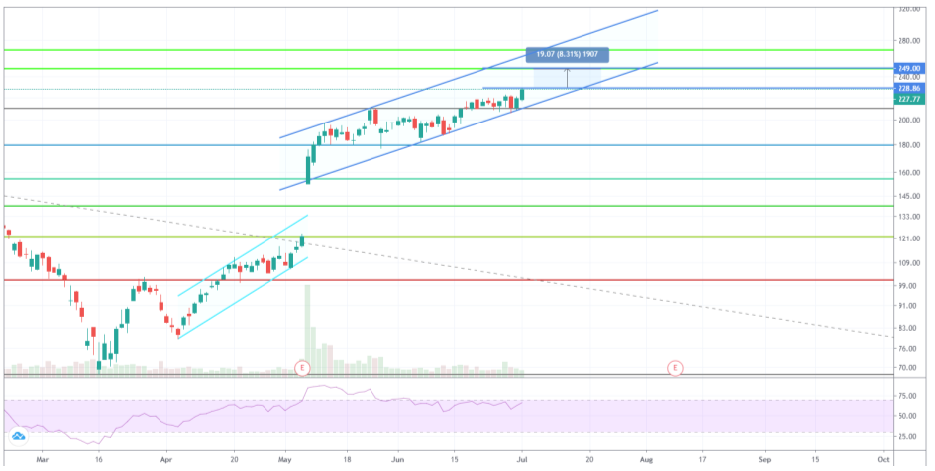 How to Buy Twilio Stock
There are two ways to do that:
Freedom24 Web Platform: Go to the Web Terminal Section, type Twilio or TWLO (Twilio NASDAQ ticker) in the search box, and select TWLO.US in the results. Open a secure session in the trading window on the right, select the number of shares you want to buy, and click Buy.
Freedom24 iPhone App: Go to the Price screen and tab the search icon in the top right corner. In the search box that shows up, type Twilio or TWLO (Twilio NASDAQ ticker) and select TWLO.US in the results. You will then see Twilio stock in the market watch; tap it and go to the Order tab in the dialog that shows up. Specify the number of shares you want to buy and click Buy.
Currency Conversion
Twilio is trading in the NASDAQ, a US stock exchange, which means you need US dollars to buy it. If your account currency is different, you need to convert your funds to USD. To do so, go to Web Platform > Account Balance in the trading platform, or select My Portfolio > Free Margin in your Member Area. Then, click the Convert green button near the USD box, specify the amount, and confirm your transaction. You can find more on converting currencies through Freedom24 web platform here.
You can also convert euros to US dollars via the Freedom24 app: go to Portfolio, select Currency Exchange, specify the amount, and confirm your transaction.

*Additional information is available upon request. Investment in securities and other financial instruments always involves risks of capital loss. The Client should make himself aware at his own accord, including to familiarize himself with Risk Disclosure Notice. Opinions and estimates constitute our judgment as of the date of this material and are subject to change without notice. Commissions, fees or other charges can diminish financial returns. Past performance is not indicative of future results. This material is not intended as an offer or solicitation for the purchase or sale of any financial instrument. The opinions and recommendations herein do not take into account individual client circumstances, objectives, or needs and do not constitute an investment advice service. The recipient of this report must make their own independent decisions regarding any securities or financial instruments mentioned herein. Information has been obtained from sources believed to be reliable by Freedom Finance Cyprus Ltd or its affiliates and/or subsidiaries (collectively Freedom Finance). Freedom Finance do not warrant its completeness or accuracy except with respect to any disclosures relative to the Freedom Finance and/or its affiliates and the analyst's involvement with the issuer that is the subject of the research. All pricing is indicative as of the close of market for the securities discussed, unless otherwise stated.