Our analysts cannot write ideas in all languages, so we show you their publications in English.
A10 Networks: 34% growth potential since the business focused on cybersecurity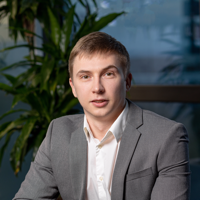 Max Manturov
Head of investment research regulated by CySec
25.03.2022
A10 Networks: 34% growth potential since the business focused on cybersecurity
A10 Networks (ATEN.US) is a leader in providing technical solutions for traffic balancing, mitigating cyber attacks and improving application security.
Ticker:
ATEN.US
Entry price: $14,1
Target price: $19
Growth potential: 34.75%
Potential dividend yield: 1.5%
Time horizon: 6 - 12 months
Risk: Moderate
Position size: 2%
Improving competitiveness by focusing on cybersecurity
Until recently, A10 Networks has focused on providing technical solutions for traffic balancing and developing Application delivery controllers (Application delivery controller or Standalone ADC). This is a highly competitive area, with F5 Networks, Juniper Networks, Fortinet, Radware and Citrix Systems among the most prominent players in addition to A10. Despite this, A10 Networks strives to monitor emerging trends and implement innovative products in a timely manner to meet customer needs.
One example is the company's focus on cyber security, which is very relevant at the moment. We have previously pointed to the increase in cyberattacks on the network on several occasions. In its study, Check Point Technologies claims that in 2021, the number of cyber attacks on corporate networks increased by 50% per week compared to 2020.
A10 Networks has already added the following solutions to its portfolio:
Thunder TPS™ - DDoS attack detection and mitigation
Thunder® SSLi® - handling encrypted traffic
Thunder® CFW is a Converged Firewall
The company is also actively improving its products in line with the Zero Trust concept, which is a priority for many commercial and government organisations. This approach implies the possibility of threats occurring in any segment of the network, even those previously considered conditionally secure behind an "impenetrable wall" of firewalls. In fact, Zero Trust means the need for cyber security systems everywhere, and A10 Networks is moving in that direction. The company is building multi-layered defences that provide visibility into encrypted traffic and prevent the introduction of ransomware, which has done enormous damage to various organisations over the past two years.
It is worth noting that the company is successfully implementing a business shift towards cyber security. Since 2019, A10 Networks has been able to significantly increase the revenue share of its DDoS/SSLi and Carrier-Class Firewall/CGN lines from 57% to 74% in 2021. Through this transition, the company has expanded the size of its addressable market. Together, the DDoS/SSLi and Carrier-Class Firewall/CGN businesses are valued at $11.4 billion. In addition to the high valuation, they also have good growth potential. A10 management expects each business to grow at least 12% and 13% respectively over the next 3 years. In other words, A10 Networks is trying to focus on the promising cybersecurity market, which could continue to be an excellent growth driver for the company in the near term.
Customer-focused business
An additional point worth highlighting is the company's interaction with customers. A10 Networks tries to adapt to changing conditions quickly enough to cover customers' emerging needs. In addition to this, the company offers an excellent price/performance ratio for its products, which was noted by respondents to online resources Gartner and TrustRadius.
In a recent presentation, company management presented the results of a study which found that many customers using A10 Networks products were able to improve their productivity and save significantly on operating and capital costs. It is worth noting that more than 79% of customers reach a positive ROI within 24 months and 54% within less than 12 months. The study also notes that 82% of organisations surveyed were more likely to recommend the A10 Thunder product series. The latter fact indicates that the company will have no problem with organic growth in the near term.
To date, A10 Networks has been able to attract a huge customer pool of more than 7000 organisations, including cloud, telecom, cable and gaming companies, as well as government organisations. The company provides its products in North America, EMEA and APAC. It is worth noting that A10 Networks provides services to many large and quite significant companies and organisations, including: Alibaba, LinkedIn, Samsung, SoftBank, Twitter, Microsoft, Yahoo, China Mobile, Deutsche Telecom, US Senate, University of California.
As a result, A10 Networks' customer-centric approach is steadily yielding results. Last year, recurring revenue reached $97.2 million, up 17.7%, and long-term contracts grew 12% to $121.6 million over the year. Thus, this approach can continue to drive organic revenue growth for the company over the medium term.
Financial situation and valuation of the company
A10 Networks is showing strong financial health. Last year the company's revenue grew by 11% to $250 million. Adj. EBTIDA reached a record $62.4 million, an increase of 37% and a margin of 25%. Net income also increased by 42% year-on-year to $50.1 million.
A10 Networks has no debt load and a substantial liquidity cushion. It has $185 million in cash equivalents on its balance sheet. This structure allows A10 Networks to be more flexible in terms of business development.
In addition, the company has optimised its business processes, last year's CFO was $50.1 million and its FCF was at $45 million.
In 2022, the company's management expects a further improvement in its financial results, and has therefore presented the following forecasts:
Revenue growth in the 10% to 12% range
Recurrent income growth in the 12% to 15% range
EBITDA margin in the range of 26% - 28%
A10 Networks is currently valued at a low multiple relative to the industry average: EV/S (LTM) - 3.6x, EV/S (FY) - 3.2x, EV/ Adj. EBITDA - 14.4x (LTM), EV/ Adj. EBITDA (FY) - 12x, Adj. PE (LTM) - 18x, Adj. PE (FY) - 14.8x.
How to take advantage of the idea?
Buy shares at a price of $14,1.
Allocate no more than 2% of your portfolio for purchase. To compile a balanced portfolio, you can use the recommendations of our analysts.
Sell when the price reaches $19.
How to Buy A10 Networks Shares?
If you don't have an investment account yet, open it now: this can be done online, in just 10 minutes. All you need to do is fill out a short form and verify your account.
After opening an account, you can buy shares in either of the following ways:
Freedom24 Web Platform: In the Web Terminal section, type ATEN.US (A10 Networks ticker in the NYSE) in the search box, and select A10 Networks in the results. Open a secure session in the trading window on the right, select the number of shares you want to buy, and click Buy.
Freedom24 iPhone or Android App: Go to the Price screen and tab the search icon in the top right corner. In the search dialog that will show up, type ATEN.US (A10 Networks ticker in the NYSE) and select A10 Networks in the search results. You will then see the stock in the market watch; tap it and go to the Order tab in the dialog that shows up. Specify the number of shares you want to buy and click Buy.

*Additional information is available upon request. Investment in securities and other financial instruments always involves risks of capital loss. The Client should make himself aware at his own accord, including to familiarize himself with Risk Disclosure Notice. Opinions and estimates constitute our judgment as of the date of this material and are subject to change without notice. Commissions, fees or other charges can diminish financial returns. Past performance is not indicative of future results. This material is not intended as an offer or solicitation for the purchase or sale of any financial instrument. The opinions and recommendations herein do not take into account individual client circumstances, objectives, or needs and do not constitute an investment advice service. The recipient of this report must make their own independent decisions regarding any securities or financial instruments mentioned herein. Information has been obtained from sources believed to be reliable by Freedom Finance Europe Ltd or its affiliates and/or subsidiaries (collectively Freedom Finance). Freedom Finance Europe Ltd. do not warrant its completeness or accuracy except with respect to any disclosures relative to the Freedom Finance Europe Ltd. and/or its affiliates and the analyst's involvement with the issuer that is the subject of the research. All pricing is indicative as of the close of market for the securities discussed, unless otherwise stated.
https://www.techvalidate.com/product-research/a10-networks


https://investors.a10networks.com/


https://www.checkpoint.com/


Freedom Finance analysts perform a three-stage analysis. They select a promising industry based on the latest news, statistics and industry-specific metrics. They assess the supply and demand situation and its future development dynamics. Industry's investment attractiveness is mostly affected by the forecasted market growth rates; total addressable market, player concentration level and likeliness of a monopoly formation, as well as the level of regulation by various entities or associations.

The assessment is followed by the comparative analysis based on the selected sample. The sample comprises companies with a market capitalization of over USD 1 billion, but there is space for exceptions (when the suitable level of liquidity for company's securities is available on the stock exchange). The selected companies (peers) are being compared against each other based on multipliers (EV/S, EV/EBITDA, PE, P/FCF, P/B), revenue growth rates, marginality and profitability (operating income margin, net income margin, ROE, ROA), and business performance.

Having completed the comparative analysis, the analysts carry out a more in-depth research of the news about the selected company. They review company's development policy, information about its current and potential mergers and acquisitions (M&A activity), and assess the efficiency of company's inorganic growth and other news about it over the past year. The main objective at this stage is to identify the growth drivers and evaluate their stability, as well as the extent of impact they have on the business.

Based on all the data collected, the analysts determine the weighted forecasted figures of company's growth rates and proposed business marginality, which are used to calculate the company's multiplier-based estimated value. The said value enables setting the stock price target and stock value growth potential.

The expected timing of the idea implementation is set depending on the current market situation, volatility level and available forecasting horizon for industry and company development. The forecasting period is normally set between 3 and 12 months.