Our analysts cannot write ideas in all languages, so we show you their publications in English.
Investing in gold: expect Wheaton Precious Metals Corp. to rise by 25%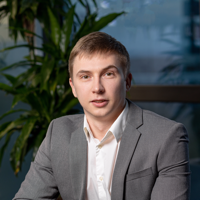 Max Manturov
Head of investment research regulated by CySec
21.03.2022
Investing in gold: expect Wheaton Precious Metals Corp. to rise by 25%
Ticker:
WPM.US
Entry price: $47.77
Target price: $60
Growth potential: 25,60%
Time horizon: 12 months
Risk: High
Position size: 3%
Current dividend yield: 1.3%
What's the idea?
Earnings on Wheaton Precious Metals Corp. shares could rise due to investor interest in gold. Increased demand for the protective asset is due to volatility in commodity markets and stagnant diplomatic relations between Russia and Western countries. We have covered the niche prospects in detail in this article and described another investment idea for investors ready to take a risk.
The Company
Wheaton Precious Metals Corp. is a multinational streaming company specialising in precious metals (gold, silver and palladium). Wheaton's current portfolio includes 24 active mines and 12 projects under development. These assets have a useful life of more than 30 years.
The primary source of revenue is the sales of silver, gold, palladium, and cobalt. The income ratio from the sales of each metal for the last three reporting quarters of 2021 is shown in the diagram below.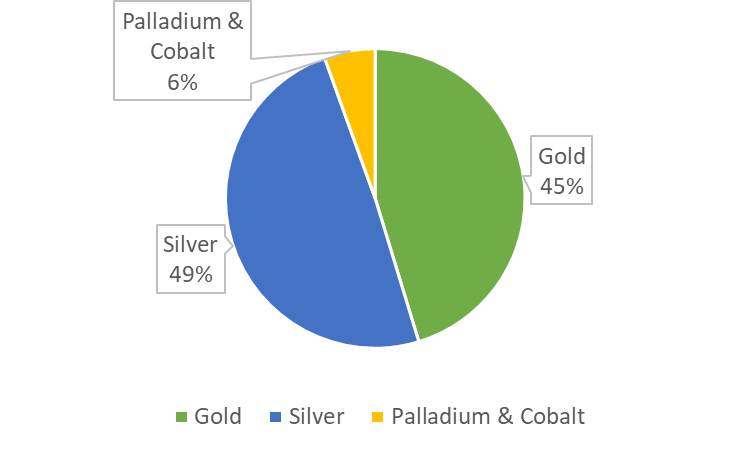 Source: Company presentation (p. 64)
Why do we recommend Wheaton Precious Metals?
Streaming business model
Under this operating model, Wheaton finances mining companies to develop and expand their projects. In return, the company receives a percentage (5-20%) of the production of one or more metals at a discounted price.
The benefits of streaming as a source of funding:
a long payment period;
there are no fixed obligations in the form of cash payments;
there are no debt service covenants;
production and operational risks are separated;
no brokerage fees.
Wheaton is more attractive than conventional mining companies. It generates income on rising metal prices. The costs are predetermined, and the average operating margin is 76%.
Wheaton saves on the small number of staff needed and can scale quickly (8 new streaming agreements in the last 15 months).
Increasing production volumes
In 2021, the production of GEO (Gold Equivalent Ounce- in gold equivalent) was 750,220. This is a 9.9% increase over 2020 (682,630 GEO). Average production forecasts are also very optimistic (See table below).

Source: WPM management press release
Increased financial performance
Over the past three years, the revenues have grown at an average rate of 15% to $1.2bn in 2021.
The company demonstrates improvement in operating and net margins of the business. Each estimate was up more than 45% year on year. Net profit for the same period was $754.9 million.
For 2021, free cash flow was $440 million.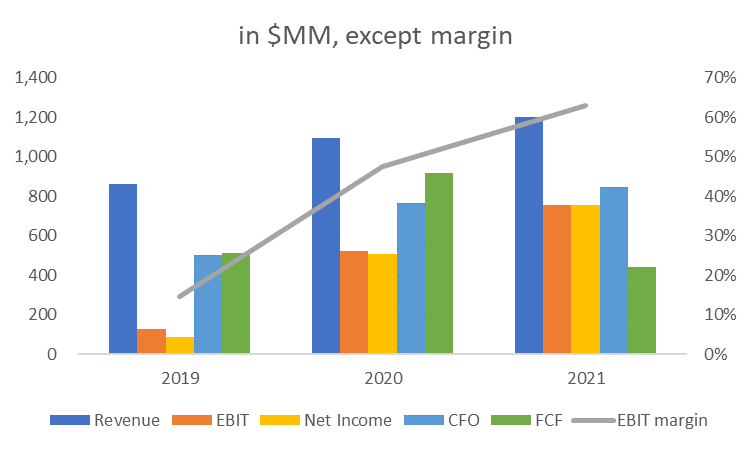 Source: Thomson Reuters Eikon
Since 2018, its management has been improving its balance sheet by reducing its debt burden. As a result, by the end of 2021, the company's debt stood at just $2.9m, while its cash had risen to $226m.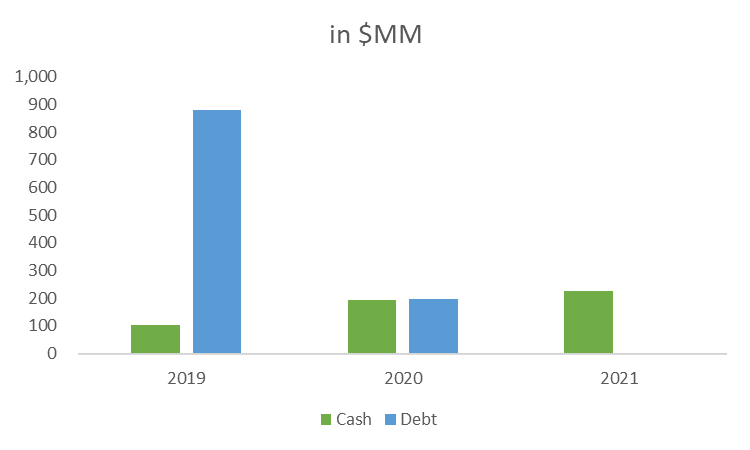 Source: Thomson Reuters Eikon
Wheaton's dividend policy is linked to the cash flow: 2018 - $132.9m (1.84% dividend yield), 2019 - $130m (1.21%), 2020 - $167.2m (1.01%). For the last year, 2021, the company paid out $218.1m (1.27%). Thus, as profits grow, the company tries to increase the number of dividends to shareholders.
Source: Thomson Reuters Eikon
The company's shares are trading at a small premium within the industry context. Because of its positive and solid financial results, the company is recognised by investors, and this is reflected in the market multiples:
EV/Sales (TTM) 17.41x | Industry Avg - 8.42x
EV/Sales (FWD) 16.53x | Industry Avg - 8.28x
EV/EBITDA (TTM) 24.48x | Industry Avg - 12.34x
EV/EBITDA (FWD) 22.29x | Industry Avg - 12.03x
PE (TTM) 28.03x | Industry Avg - 52.21x
PE (FWD) 32.74x | Industry Avg - 25.86x
Source: Thomson Reuters Eikon
Targets of investment houses
2/8/2022 // Raymond James // Outperform // Target - $54
Conclusion
Wheaton Precious Metals Corp. is offering an opportunity to capitalise on the investor interest in gold. Demand for the conservative instrument is supported by the uncertainty in equity and commodity markets, high dollar inflation and tensions between the West and Russia. In addition, the company shows exiting business growth, a strong balance sheet, high margins and efficient quality of capital structure management.
How to take advantage of the idea?
Buy shares at a price of $47.77.
Allocate no more than 3% of your portfolio for purchase. To compile a balanced portfolio, you can use the recommendations of our analysts.
Sell when the price reaches $60.
How to Buy shares Wheaton Precious Metals Corp.?
If you don't have an investment account yet, open it now: this can be done online, in just 10 minutes. All you need to do is fill out a short form and verify your account.
After opening an account, you can buy shares in either of the following ways:
Freedom24 Web Platform: In the Web Terminal section, type WPM.US (Wheaton Precious Metals Corp. ticker in the NYSE) in the search box, and select Wheaton Precious Metals Corp. in the results. Open a secure session in the trading window on the right, select the number of shares you want to buy, and click Buy.
Freedom24 iPhone or Android App: Go to the Price screen and tab the search icon in the top right corner. In the search dialog that will show up, type WPM.US (Wheaton Precious Metals Corp. ticker in the NYSE) and select Wheaton Precious Metals Corp. in the search results. You will then see the stock in the market watch; tap it and go to the Order tab in the dialog that shows up. Specify the number of shares you want to buy and click Buy.

*Additional information is available upon request. Investment in securities and other financial instruments always involves risks of capital loss. The Client should make himself aware at his own accord, including to familiarize himself with Risk Disclosure Notice. Opinions and estimates constitute our judgment as of the date of this material and are subject to change without notice. Commissions, fees or other charges can diminish financial returns. Past performance is not indicative of future results. This material is not intended as an offer or solicitation for the purchase or sale of any financial instrument. The opinions and recommendations herein do not take into account individual client circumstances, objectives, or needs and do not constitute an investment advice service. The recipient of this report must make their own independent decisions regarding any securities or financial instruments mentioned herein. Information has been obtained from sources believed to be reliable by Freedom Finance Europe Ltd or its affiliates and/or subsidiaries (collectively Freedom Finance). Freedom Finance Europe Ltd. do not warrant its completeness or accuracy except with respect to any disclosures relative to the Freedom Finance Europe Ltd. and/or its affiliates and the analyst's involvement with the issuer that is the subject of the research. All pricing is indicative as of the close of market for the securities discussed, unless otherwise stated.
https://en.freedom24.com/ideas/12040-vaneck-gold-miners-etf-investidea


https://en.freedom24.com/ideas/12042-hecla-mining-company-investidea


https://www.wheatonpm.com/Investors/presentations/default.aspx


https://s21.q4cdn.com/266470217/files/doc_presentations/2022/02/22-02-28-March-Corporate-Presentation-good.pdf


https://www.fool.com/investing/2018/05/21/what-is-a-gold-equivalent-ounce-geo.aspx

Freedom Finance analysts perform a three-stage analysis. They select a promising industry based on the latest news, statistics and industry-specific metrics. They assess the supply and demand situation and its future development dynamics. Industry's investment attractiveness is mostly affected by the forecasted market growth rates; total addressable market, player concentration level and likeliness of a monopoly formation, as well as the level of regulation by various entities or associations.

The assessment is followed by the comparative analysis based on the selected sample. The sample comprises companies with a market capitalization of over USD 1 billion, but there is space for exceptions (when the suitable level of liquidity for company's securities is available on the stock exchange). The selected companies (peers) are being compared against each other based on multipliers (EV/S, EV/EBITDA, PE, P/FCF, P/B), revenue growth rates, marginality and profitability (operating income margin, net income margin, ROE, ROA), and business performance.

Having completed the comparative analysis, the analysts carry out a more in-depth research of the news about the selected company. They review company's development policy, information about its current and potential mergers and acquisitions (M&A activity), and assess the efficiency of company's inorganic growth and other news about it over the past year. The main objective at this stage is to identify the growth drivers and evaluate their stability, as well as the extent of impact they have on the business.

Based on all the data collected, the analysts determine the weighted forecasted figures of company's growth rates and proposed business marginality, which are used to calculate the company's multiplier-based estimated value. The said value enables setting the stock price target and stock value growth potential.

The expected timing of the idea implementation is set depending on the current market situation, volatility level and available forecasting horizon for industry and company development. The forecasting period is normally set between 3 and 12 months.