Our analysts cannot write ideas in all languages, so we show you their publications in English.
Kohl's Corp: up 20% due to pending corporate merger/acquisition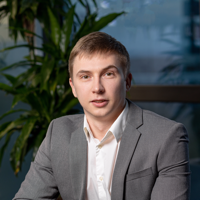 Max Manturov
Head of investment research regulated by CySec
18.03.2022
Kohl's Corp: up 20% due to pending corporate merger/acquisition
Ticker:
KSS.US
Current price: $62.5 / $50
Target price: $75
Growth potential: 20% / 50%
Time horizon: 12 months
Risk: Moderate
Position size: 5%
Expected dividend yield: 3.7%
The company
Kohl's Corporation was established in 1988 and is headquartered in Wisconsin. The company owns the largest chain of retail shops in the US, with a total of 1165 stores. Through their shops and website, Kohl's sells clothing, footwear, accessories, cosmetics and homewares, both own-brand (available only in Kohl's shops) and brands of other companies at reasonable prices.
What's the idea?
Make money on Kohl's Corp shares, which could rise thanks to an initiative by activist investment fund Macellum Capital Management. The fund plans to change the composition of its directors and achieve strategic goals agreed with all its stakeholders. An additional reason could be a potential takeover/merger, in which Kohl's Corporation would be the target company and would accordingly be acquired at a premium to its current valuation.
Important update - take note!
At the time of writing, the news broke on the 16th of March that Hudson's Bay was planning to make an offer for Kohl's Corp (valuation: $9bn). Against this backdrop, the share price rose from $53.8 to $63 by 17.3%. However, it should be noted that similar offers have previously been rejected (more details in the second reason below). We do not exclude that a similar situation could happen this time too, causing the stock to return
to the $50 level, where it is also worth buying. However, many players find Kohl's Corp an attractive asset and there could be competition between players, leading to higher buyout values.
Why do we like Kohl's Corp?
Reason 1. Anticipated end of shareholder value stagnation through change of directors by activists.
Because of weak long-term business growth, the activist fund Macellum Capital Management (which owns about 5% of the company) is teaming up with other investors in the corporation to form an 'investor group' and is putting forward a list of ten highly qualified and independent director candidates for election at this year's annual meeting. The list, according to activists, has the right mix of corporate governance expertise, retail consumer experience and merger and acquisition experience (activists' plan).
What makes the company unique is the valuable asset in the form of a real estate portfolio. The value of this portfolio is estimated in the $7-9bn range. Today, the company's capitalisation is equivalent to $7.7bn. Activists suggest setting up a sales leaseback programme - selling real estate and then renting it out.
The proceeds will be used to launch a new strategic plan, which will include:
improving merchandising and enhancing the effectiveness of the marketing strategy
reducing operating costs and increase inventory turnover
improving the efficiency of capital investments
reorganising the executive branch and making changes to management compensation/incentives in line with the company's objectives
Conducting a buyback programme
According to activists, the plan will give a fresh impetus to the business on the one hand and act in the interests of shareholders on the other. The planned changes are expected to improve Kohl's Corp's financial performance, including boosting revenues, improving margins and improving cash flow, which will ultimately have an extremely positive impact on shareholder value.
In addition, Kohl's Corp will have additional funds to devote to dividend payments and a share buyback programme which will not negatively impacting the company's balance sheet.
Reason 2. Attempted merger/acquisition of Kohl's Corp.
In January this year, two investment companies turned out to be interested in acquiring Kohl's Corp:
Acacia Research, backed by activist investment firm Starboard Value, has offered to buy back the company at $64 a share
On the other hand, the private equity firm Sycamore Partners wanted to buy the company for $65 Despite this, both proposals were rejected. In addition, management has adopted a two-tier shareholder rights plan (poison pill) whereby any new investor wishing to buy more than 10% of the company's shares would have to buy them at a 50% premium to the company's current value.
In the current environment, some large investment houses have raised their expectations for the valuation of the company's shares:
Reason 3. New development plan and the company's financial situation.
Amid much pressure from shareholders, management, finding itself in a difficult position, has proposed its own development plan, which includes:
The opening of more than 100 new shops, which could bring in more than $500m extra, according to management. The ROI from this investment is expected to be more than 15%
a new partnership programme with Amazon
further development of the digital business. In 2021, 32% of revenue came from online sales, equivalent to ~$6bn. Management plans to continue to drive growth in online sales, with the aim of reaching $8bn
In addition, management's plans included:
doubling the dividend to $2 per share a year (3.7% is today's dividend yield);
the signing of a $3bn share buyback programme, with a mandatory buyback of $1bn during 2022
The combined dividend and buyback programme in 2022 will amount to 16.7% of today's market capitalisation.
The company has a stable financial position. In 2021, the corporation had revenue of $19.4 billion, EBITDA of $2.3 billion (11.9% margin), operating profit of $1.6 billion (7.6% margin) and net income of $938 million (4.8% margin).
Among other things, the company has steadily generated cash flow over the years. Cash flow from operations in 2021 was $2.3bn, up 70% year-on-year. Free cash flow (FCF) was $1.7bn, 41% higher than in 2020.
Kohl's Corp has an acceptable debt level of $4.1bn and cash on hand of $1.59bn. The company is trying to maintain a moderate level of debt, with Net Debt/EBITDA not exceeding 3x over the last 5 years. At the moment it stands at 1.1x.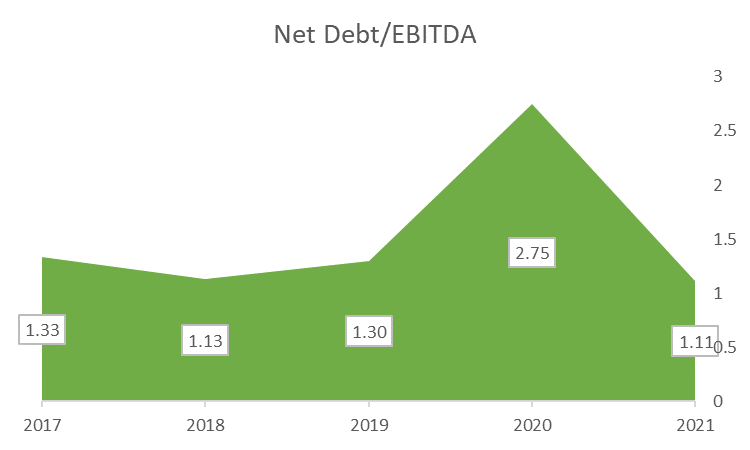 Source: Thomson Reuters Eikon
The corporation trades cheaply relative to industry competitors:
EV/Sales (TTM) 0.52x | Industry Avg - 0.96x
EV/Sales (FWD) 0.53x | Industry Avg - 0.88x
EV/EBITDA (TTM) 4x | Industry Avg - 7.36x
EV/EBITDA (FWD) 4.41x | Industry Avg - 7.18x
PE (TTM) 8.4x | Industry Avg - 17.15x
PE (FWD) 7.4x | Industry Avg - 14.25x
Source: Thomson Reuters Eikon
Ratings of investment houses
3/2/2022 // Deutsche Bank // Target - $85
3/2/2022 // Rebert Baird // Target - $68
3/8/2022 // Telsey Advisory Group // Target - $60
3/8/2022 // Credit Suisse // Target - $60
3/9/2022 // Bank of America // Target - $60
Conclusion
Kohl's Corp represents a unique opportunity for investors to make money. Because of its high-quality real estate portfolio and slow long-term growth, the company has faced pressure from activists and a large number of those wishing to buy the company out. These developments have prompted management to make strategic changes in favour of investors. Already today Kohl's has approved an increase in dividends and share buyback together to 16.7% of the current capitalization. If the activist plan is implemented, the payout will be even higher. Finally, the company could be bought back at a premium.
How to take advantage of the idea?
Buy shares at a price of $62.5 / $50.
Allocate no more than 5% of your portfolio for purchase. To compile a balanced portfolio, you can use the recommendations of our analysts.
Sell when the price reaches $75.
How to Buy Kohl's Corp.?
If you don't have an investment account yet, open it now: this can be done online, in just 10 minutes. All you need to do is fill out a short form and verify your account.
After opening an account, you can buy shares in either of the following ways:
Freedom24 Web Platform: In the Web Terminal section, type KSS.US (Kohl's Corp. ticker in the NYSE) in the search box, and select Kohl's Corp. in the results. Open a secure session in the trading window on the right, select the number of shares you want to buy, and click Buy.
Freedom24 iPhone or Android App: Go to the Price screen and tab the search icon in the top right corner. In the search dialog that will show up, type KSS.US (Kohl's Corp. ticker in the NYSE) and select Kohl's Corp. in the search results. You will then see the stock in the market watch; tap it and go to the Order tab in the dialog that shows up. Specify the number of shares you want to buy and click Buy.

*Additional information is available upon request. Investment in securities and other financial instruments always involves risks of capital loss. The Client should make himself aware at his own accord, including to familiarize himself with Risk Disclosure Notice. Opinions and estimates constitute our judgment as of the date of this material and are subject to change without notice. Commissions, fees or other charges can diminish financial returns. Past performance is not indicative of future results. This material is not intended as an offer or solicitation for the purchase or sale of any financial instrument. The opinions and recommendations herein do not take into account individual client circumstances, objectives, or needs and do not constitute an investment advice service. The recipient of this report must make their own independent decisions regarding any securities or financial instruments mentioned herein. Information has been obtained from sources believed to be reliable by Freedom Finance Europe Ltd or its affiliates and/or subsidiaries (collectively Freedom Finance). Freedom Finance Europe Ltd. do not warrant its completeness or accuracy except with respect to any disclosures relative to the Freedom Finance Europe Ltd. and/or its affiliates and the analyst's involvement with the issuer that is the subject of the research. All pricing is indicative as of the close of market for the securities discussed, unless otherwise stated.
https://macellumcapitalmanagement.com/wp-content/uploads/2021/10/Letter-to-KSS-Stockholders_2-22-21.pdf


https://www.cnbc.com/2022/01/24/kohls-shares-surge-as-takeover-offers-emerge-suitors-include-sycamore.html


https://investors.kohls.com/news-releases/news-details/2022/Kohls-Board-of-Directors-Provides-Update-on-Review-of-Unsolicited-Expressions-of-Interest/default.aspx


https://seekingalpha.com/news/3791361-kohls-may-see-70-95share-takeout-price-in-a-bidding-war-analyst-says


https://wwd.com/business-news/retail/kohls-cowen-takeover-bids-1235059620/


https://seekingalpha.com/news/3810446-kohls-said-its-advisor-goldman-has-engaged-with-over-20-parties


https://s29.q4cdn.com/153095417/files/doc_presentations/2022/03/KSS_InvestorDay_2022_FINAL.pdf


Freedom Finance analysts perform a three-stage analysis. They select a promising industry based on the latest news, statistics and industry-specific metrics. They assess the supply and demand situation and its future development dynamics. Industry's investment attractiveness is mostly affected by the forecasted market growth rates; total addressable market, player concentration level and likeliness of a monopoly formation, as well as the level of regulation by various entities or associations.

The assessment is followed by the comparative analysis based on the selected sample. The sample comprises companies with a market capitalization of over USD 1 billion, but there is space for exceptions (when the suitable level of liquidity for company's securities is available on the stock exchange). The selected companies (peers) are being compared against each other based on multipliers (EV/S, EV/EBITDA, PE, P/FCF, P/B), revenue growth rates, marginality and profitability (operating income margin, net income margin, ROE, ROA), and business performance.

Having completed the comparative analysis, the analysts carry out a more in-depth research of the news about the selected company. They review company's development policy, information about its current and potential mergers and acquisitions (M&A activity), and assess the efficiency of company's inorganic growth and other news about it over the past year. The main objective at this stage is to identify the growth drivers and evaluate their stability, as well as the extent of impact they have on the business.

Based on all the data collected, the analysts determine the weighted forecasted figures of company's growth rates and proposed business marginality, which are used to calculate the company's multiplier-based estimated value. The said value enables setting the stock price target and stock value growth potential.

The expected timing of the idea implementation is set depending on the current market situation, volatility level and available forecasting horizon for industry and company development. The forecasting period is normally set between 3 and 12 months.