Our analysts cannot write ideas in all languages, so we show you their publications in English.
ARIS: growth of more than 39% due to the energy industry's transition to ESG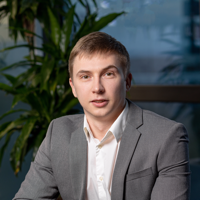 Max Manturov
Head of investment research regulated by CySec
18.03.2022
ARIS: growth of more than 39% due to the energy industry's transition to ESG
Ticker:
ARIS.US
Current price: $17.9
Target price: $25
Growth potential: 39.66%
Potential dividend yield: 2.15%
Time horizon: 12 months
Risk: High
Position size: 2%
The Company
Aris Water Solutions Inc. is one of the leaders in the development and operation of water collection and treatment solutions. The company provides services to the largest oil operators in the Permian Basin. Clients include ConocoPhillips, Occidental Petroleum Corporation, ExxonMobil Corporation, Marathon Oil Corporation, Chevron Corporation and Mewbourne Oil Company.
What's the idea?
Make money with Aris Water Solutions shares, which could rise on the back of a rebound in the oil and gas sector in the US. An additional trigger could be the increased scrutiny of companies by environmental organisations, with the aim of reducing pollution and CO2 emissions.
Why do we like Aris Water Solutions?
Availability of demanded solutions from oil companies
One of the important challenges oil companies face is to reduce the use of fresh water in oil production, or at least minimise its use for industrial purposes. Water in oil production is used to maintain the reservoir pressure of oil reservoirs at a level that allows high rates of oil production to be achieved. This technology allows an increase in oil recovery, in some cases up to 70%.
In some cases, water from surface freshwater sources (rivers and reservoirs) in the vicinity of fields under development is used for waterflooding, which is the simplest solution. Alternatives include the use of water extracted with oil (produced water/formation water), but this is more time consuming and costly.
It is worth noting that in the Permian Basin, located in the desert areas of western Texas and southeastern New Mexico, only the second option is applicable. However, in this region, most of the deposits are shale, so the separated water is extremely corrosive.
Aris Water Solutions helps major oil companies in the region to solve their water problem. The company uses state-of-the-art technology to maximise water collection and further treatment. As a result, Aris Water provides oil producers with process water, which they use to inject into an oil-bearing reservoir to maintain the required pressure. At the same time, it is worth noting that the treated water does not create ecological damage to the environment.
Thus, thanks to Aris Water solutions, oil producers:
obtain water to maintain the right reservoir pressure and improve production efficiency
solve the ESG problem and reduce the negative impact on the environment
reduce the effects of corrosion from corrosive produced water on the oil delivery system
which together create a significant economic benefit for oil companies, even when costs are taken into account.
Demand for these services is picking up, with Aris Water entering into 3 new contracts covering 34,000 acres in 4Q21 alone (over 68,000 acres were covered in contracts in 2021). This trend is expected to increase this year. The emergence of a military conflict between Russia and Ukraine has triggered an increase in oil prices and a US embargo on Russian oil resources. This will further increase the economic benefit of shale oil production, which becomes profitable at prices above $50 to $60 a barrel. According to Baker Hughes the number of active drilling rigs in the US has risen from 480 to 527 (almost 10%) since the start of the year. In other words, demand for Aris Water Solutions' services may grow significantly, which will have an extremely positive effect on both the company's revenue and its capitalisation.
High entry barriers
Aris Water Solutions has the added advantage of recycling technology and an extensive pipeline infrastructure. The company is actively developing solutions for the collection and treatment of produced water (Handling Water). As a result, the percentage of water that can be safely used for further purposes has risen from 5% to 63% since 2017, which is a very competitive level. At the same time, Aris aims to reach 98% by 2030.
In addition, the company has been able to build a network of facilities, some aimed at collecting produced water, some aimed at treating it and a 680-mile pipeline covering 583,000 acres. Current production capacity of the infrastructure is 1.2 thousand kbpd of produced water and 800 kbpd of treated water. At the same time, the company is actively increasing its production capacity year on year.
Both of these factors provide a significant competitive advantage for the company in the Permian Basin region.
The company's financial situation
Over the last year, the company's revenue increased by more than 34% to $229.3m. Adj. EBITDA in 2021 reached $121m. According to the management forecast for 2022, Adj. EBITDA is expected to increase by 30% to $150m - $160m. Aris Solutions reported a net loss of $7m in 2021, while a year earlier the company posted a profit of $7000. This loss was caused by a write-off of more than $28m in 3Q21 on one of its infrastructure facilities. Thus, the adjusted annual net income (excluding the write-off) is $21.5m.
The company faces no liquidity constraints, with liquidity of $36.4m. Aris generates stable cash flow, which it is actively building up, with a 2021 CFO of $58.8m.
The company has a high leverage of $391.6m, with Net Debt/EBITDA of 4.16x. The current debt is low-risk, with principal repayments starting in 2026, while management expects EBITDA to increase significantly in the coming years.
It is also worth noting that Aris Water enters into long-term inflation-indexed contracts, making future revenue more predictable and relatively secure in the current economic climate.
Since 2022, the company has started paying a dividend of $0.09 per share, which currently represents a 2.15% dividend yield.
Below are the company's market multiples:
EV/Sales (TTM) - 7.3x
EV/Sales (FWD) - 5.48x
EV/EBITDA (TTM) - 15.3x
EV/EBITDA (FWD) - 10.2x
Adj PE (TTM) - 42x
PE (FWD) - 15.43x
Source: Thomson Reuters Eikon
Risks
The company went public in October 2021. The lock-up period for insider shares ends on the 20th of April 2022. If they wish they will be able to create a negative, self-reinforcing reaction in the stock market with their sales.
On the other hand, insiders unanimously bought their shares for just under $1.3 m a few days after the IPO on the 26th of October 2021, reflecting their firm commitment to the company's ambitious plans.
How to take advantage of the idea?
Buy shares at a price of $17.9.
Allocate no more than 2% of your portfolio for purchase. To compile a balanced portfolio, you can use the recommendations of our analysts.
Sell when the price reaches $25.
How to Buy Aris Water Solutions Inc.?
If you don't have an investment account yet, open it now: this can be done online, in just 10 minutes. All you need to do is fill out a short form and verify your account.
After opening an account, you can buy shares in either of the following ways:
Freedom24 Web Platform: In the Web Terminal section, type ARIS.US (Aris Water Solutions Inc. ticker in the NYSE) in the search box, and select Aris Water Solutions Inc. in the results. Open a secure session in the trading window on the right, select the number of shares you want to buy, and click Buy.
Freedom24 iPhone or Android App: Go to the Price screen and tab the search icon in the top right corner. In the search dialog that will show up, type ARIS.US (Aris Water Solutions Inc. ticker in the NYSE) and select Aris Water Solutions Inc. in the search results. You will then see the stock in the market watch; tap it and go to the Order tab in the dialog that shows up. Specify the number of shares you want to buy and click Buy.

*Additional information is available upon request. Investment in securities and other financial instruments always involves risks of capital loss. The Client should make himself aware at his own accord, including to familiarize himself with Risk Disclosure Notice. Opinions and estimates constitute our judgment as of the date of this material and are subject to change without notice. Commissions, fees or other charges can diminish financial returns. Past performance is not indicative of future results. This material is not intended as an offer or solicitation for the purchase or sale of any financial instrument. The opinions and recommendations herein do not take into account individual client circumstances, objectives, or needs and do not constitute an investment advice service. The recipient of this report must make their own independent decisions regarding any securities or financial instruments mentioned herein. Information has been obtained from sources believed to be reliable by Freedom Finance Europe Ltd or its affiliates and/or subsidiaries (collectively Freedom Finance). Freedom Finance Europe Ltd. do not warrant its completeness or accuracy except with respect to any disclosures relative to the Freedom Finance Europe Ltd. and/or its affiliates and the analyst's involvement with the issuer that is the subject of the research. All pricing is indicative as of the close of market for the securities discussed, unless otherwise stated.
https://www.bloomberg.com/news/articles/2022-02-19/how-rebounding-oil-is-making-u-s-shale-more-viable-quicktake


https://www.bakerhughes.com/


http://openinsider.com/screener?s=ARIS&o=&pl=&ph=&ll=&lh=&fd=730&fdr=&td=0&tdr=&fdlyl=&fdlyh=&daysago=&xp=1&xs=1&vl=&vh=&ocl=&och=&sic1=-1&sicl=100&sich=9999&grp=0&nfl=&nfh=&nil=&nih=&nol=&noh=&v2l=&v2h=&oc2l=&oc2h=&sortcol=0&cnt=100&page=1


Freedom Finance analysts perform a three-stage analysis. They select a promising industry based on the latest news, statistics and industry-specific metrics. They assess the supply and demand situation and its future development dynamics. Industry's investment attractiveness is mostly affected by the forecasted market growth rates; total addressable market, player concentration level and likeliness of a monopoly formation, as well as the level of regulation by various entities or associations.

The assessment is followed by the comparative analysis based on the selected sample. The sample comprises companies with a market capitalization of over USD 1 billion, but there is space for exceptions (when the suitable level of liquidity for company's securities is available on the stock exchange). The selected companies (peers) are being compared against each other based on multipliers (EV/S, EV/EBITDA, PE, P/FCF, P/B), revenue growth rates, marginality and profitability (operating income margin, net income margin, ROE, ROA), and business performance.

Having completed the comparative analysis, the analysts carry out a more in-depth research of the news about the selected company. They review company's development policy, information about its current and potential mergers and acquisitions (M&A activity), and assess the efficiency of company's inorganic growth and other news about it over the past year. The main objective at this stage is to identify the growth drivers and evaluate their stability, as well as the extent of impact they have on the business.

Based on all the data collected, the analysts determine the weighted forecasted figures of company's growth rates and proposed business marginality, which are used to calculate the company's multiplier-based estimated value. The said value enables setting the stock price target and stock value growth potential.

The expected timing of the idea implementation is set depending on the current market situation, volatility level and available forecasting horizon for industry and company development. The forecasting period is normally set between 3 and 12 months.