What is the idea?
Investing in Cameco Corp to make money amid the evolving energy crisis. Today's conflict could cause a growing energy crisis, pushing Europe to accelerate the implementation of clean and environmentally friendly energy sources in line with the plans of the Paris Agreement.
Why do we like the uranium industry and Cameco Corp.?
Reason 1: The escalating conflict between Russia and Ukraine could accelerate the transition to renewable energy.
The conflict has increased the risk of dependence on Russian gas, especially for countries that see it as a bridge to renewable energy.
Russia's invasion of Ukraine was expected to give added urgency to Europe's efforts to overcome its dependence on Russian oil and gas, and to force Europe to accelerate the transition to cleaner energy, experts and EU officials say. Indeed, on the 27th of February 2022, the Chancellor of Germany, Olaf Scholz, announced the construction of two liquefied natural gas (LNG) terminals in Germany in response to the Ukraine operation and dependence on Russian natural gas. These actions have increased tensions between Europe and Russia.
Discussions about a quicker transition to clean and eco-friendly energy sources began months ago when oil and gas prices began to rise. Discussions have intensified in recent weeks as Russia has moved closer to war, a threat that has raised the possibility that already low gas supplies could be further curtailed if Russia shuts off the taps. Germany currently gets about half of its gas supply through pipelines from Russia, and lacks the infrastructure to import liquefied natural gas from other countries. (As mentioned above, they will build two LNG terminals). As Russian gas flows have slowed down, Germany's sense of reliability has changed. This realisation could overturn the status quo.
The energy crisis experienced in some parts of the world has heightened concerns about energy security and highlighted the role of energy policy and balancing three main goals: ensuring a clean emissions profile, ensuring a reliable and secure base load profile and ensuring an affordable balanced cost profile. Too much focus on one goal has resulted in some jurisdictions facing electricity shortages and soaring energy prices. There is now a growing recognition that nuclear power, with its clean emission profile, reliable and safe base load characteristics and low level costs, plays a key role in achieving decarbonisation goals.
Reason 2. The competitive advantages of uranium over other energy sources on the world's path to "net zero".
Uranium has the following competitive characteristics:
Relatively more reliable, efficient, clean and safe.
Nuclear power is highly reliable and efficient compared to other forms of power generation. Nuclear energy is by far the most concentrated form of energy. The high energy density of uranium reduces the impact of mining and transport, making it easier to store waste.
Nuclear power is one of the cleanest sources of energy, based on CO2 emissions. Nuclear reactors use fission (the splitting of uranium atoms) to produce electricity without any combustion.
Nuclear power is one of the safest energy sources available. When calculated on a full-cycle basis, nuclear is the safest industry among all energy industries in terms of the number of deaths per unit of electricity generation (Source: World Nuclear Association).
Because of the long-term falling uranium price, many companies have gone bankrupt, while the strongest have consolidated, waiting for a better time to ramp up production. Today, the lagging supply over the last year has positively affected the rising price of uranium. The shift in demand is fundamental and linked to global plans to decarbonise the global economy. This plan is based on the Paris Agreement.
In particular, the following problems can be partially solved with uranium:
First, to lift a third of the world's population out of energy poverty by increasing the availability of clean and reliable basic electricity.
Secondly, to replace 85% of the world's current carbon dioxide-fuelled electricity grid with a clean and reliable alternative.
Finally, the challenge is to expand global energy systems by converting industries to clean electricity.
Today uranium market fundamentals are changing in favour of producers. Stable long-term demand, enabled by the "Net Zero" trend, is developing positive strategic shifts for existing mining companies, in particular affecting Cameco Corporation's uranium mining decisions (discussed further below).
Reason 3. Cameco has competitive advantages that will contribute to long-term benefits throughout the fuel chain in the new clean economy.
Cameco is one of the industry leaders. From 2011 until 2020, uranium prices declined. In this long-term negative environment, the company's management made strategic choices aimed at maintaining the company's position in the industry. Today the company is vertically integrated. The realisation of this objective is reflected on the balance sheet in the form of accumulated cache in excess of the company's debt. Negative net debt indicates the company's strong balance sheet and provides an opportunity to participate in new projects. The increased demand for uranium has not yet affected the company's revenue, as the sales are generated by medium- and long-term contracts. The company's revenue declined on average by 5% over the last 5 years. EBITDA declined from $372MM in 2019 to $117MM in 2021. However, management managed to maintain a high FCF of $286MM in 2021. FCF is more informative about the company's financial health as it reflects the high level of liquidity needed to support a) operations and b) increase the company's flexibility and readiness for production roll-outs as well as new investments in uranium development and processing.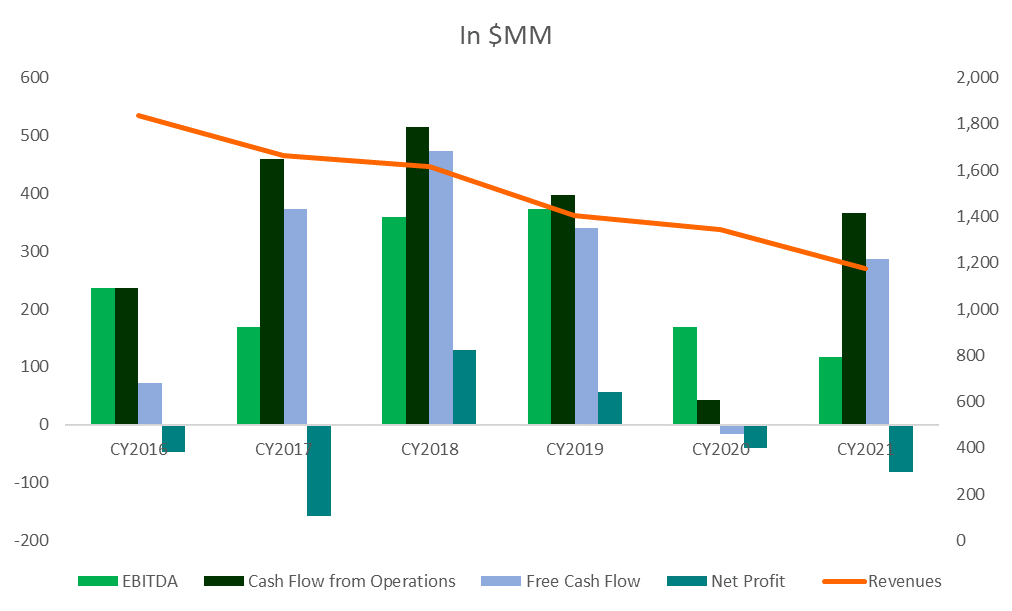 Source: Ycharts
The cash reserves over the last 5 years have grown at an average annual rate of 38% to $978MM by 2021, while debt declined to $781MM in the same year. Net debt was -$197MM - more cash than debt.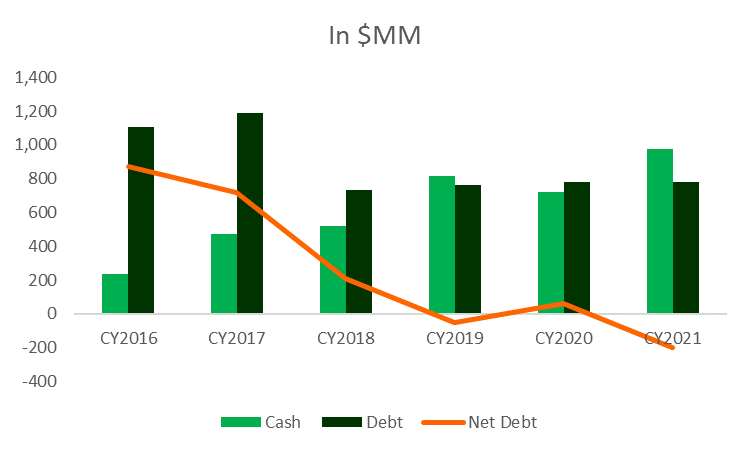 Source: Ycharts
We should expect positive changes in revenues as the spot price of uranium has risen 92.5% since March 2020 from $24.35 to $46.75 per U3O8. The same is confirmed by management's intentions as at the last quarterly conference the CEO shared the company's plans:
"If you remember last quarter, I said at the time that when the data came in, I would announce a return to operating status for our mine. I said it would be undeniably positive news for Cameco. Well, today is that day."
The CEO further clarified:
"To start with, we will begin the process of moving the MacArthur River mine and Key Lake shredder from maintenance to operational readiness, which will allow us to produce 15 million pounds (pounds) a year at 100% level by 2024."
At the moment, by multiples, Cameco Corp is trading cheaply relative to other companies in the industry:
Price/Sales (TTM) 7.77 | Industry Avg- 292
EV/Sales (FWD) 6.38 | Industry Avg - 99
EV/Sales (TTM) 7.57 | Industry Avg - 284
EV/EBITDA (FWD) 31.22 | Industry Avg - N/A
EV/EBITDA (TTM) 42.06 | Industry Avg - N/A
Price to Book (TTM) 2.37 | Industry Avg - 4
PE (FWD) 26.5x | Industry Avg — N/A

Source: Seeking Alpha
Because of the long-term decline in the uranium market, from 2011 to 2020, companies faced difficult conditions: many were forced into bankruptcy, some temporarily suspended production, while the strongest implemented strategic plans for integration and consolidation. Today, most companies in the industry are in poor financial condition, with many lacking revenue. For this reason, on the one hand, a comparison with the industry dominating the Cameco uranium market helps to give a quick overview but, on the other hand, is not informative.
Furthermore, management is optimistic that the company will increase its dividend payments in 2022: "our board of directors has approved a dividend payment of $0.12 per share in December compared to $0.08 per share in 2021. The current annual dividend yield is 0.4%. The potential dividend yield will be 0.5%
Recommendations of investment houses
11.02.2022 // BMO Capital Markets // $С33 target price (Canadian USD)
10.02.2022 // Canaccord Genuity Group // $37 target price
10.02.2022 // Royal Bank of Canada // $С30 target price (Canadian USD)
Source: marketbeat.com
Conclusion
Cameco Corporation has long stagnated in terms of shareholder value due to the long-term downturn in the uranium market. Today, in a new market fueled by global long-term demand based on carbon reduction plans, Cameco stands out from its competitors in terms of financial health, market share and vertical integration. These factors will enable Cameco to deliver tremendous value to its shareholders in the new commodity cycle.
How to take advantage of the idea?
Buy the stock at $23.5.
Allocate no more than 5% of your portfolio for purchase. To compile a balanced portfolio, you can use the recommendations of our analysts.
Sell when the price reaches $30.