Our analysts cannot write ideas in all languages, so we show you their publications in English.
Blucora Inc: expected 53.85% growth on replacement of directors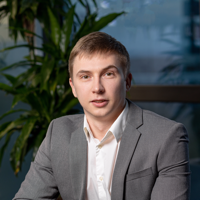 Max Manturov
Head of investment research regulated by CySec
02.03.2022
Blucora Inc: expected 53.85% growth on replacement of directors
Ticker:
BCOR.US
Current price: $19.5
Target price: $30
Growth potential: 53.85%
Time horizon: 12 months
Risk: High
Position size: 2%
The company
Blucora Inc. provides a wide range of financial services. The Company's operations include a wealth management department and a tax preparation department. Blucora offers its tax solutions and wealth management services to clients in the US.
What's the idea?
Make money on shares in Blucora Inc. which could rise thanks to an initiative by activist investment fund Engine Capital LP. This fund is proposing to nominate three highly qualified and independent candidates for election to the company's board of directors at the 2022 AGM.
Why do we like Blucora Inc.?
Reason 1. Anticipated end of shareholder value stagnation through change of directors
Engine Capital LP is a special situations-focused fund that actively and passively invests in companies experiencing significant change. This fund is a major shareholder in Blucora, Inc. which owns approximately 3.7% of the company's outstanding shares.
The fund has listed important factors in the stagnation of shareholder value growth in its note:
The company's shares have underperformed compared to its peers and related indices over various timeframes: one year, three years, five years and ten years. The company's share price has actually fallen by more than 20% since Mr Walters became CEO in January 2020.
The stock trades at a big discount compared to its peers (Intuit Inc, Raymond James Financial Inc, Victory Capital Holdings Inc, Virtus Investment Partners Inc, Sculptor Capital Management Inc, Owl Rock Capital Corp) in taxation and asset management.
The company's corporate overheads remain inflated and exorbitant for a small-cap company that has struggled for several years (more on this later).
According to activists, the company's basic business segments, TaxAct and Avantax, are not realising their potential.
Market confidence in the company appears to have deteriorated further as its forward earnings multiple is close to a record low (8.61x; source: Thompson Reuters Eikon) - even lower than during last year's election campaigns.
A high-performing board has a duty to appoint and properly remunerate the right managers, shape an effective strategy, govern accordingly, and oversee capital allocation. The Foundation argues that Blucora's board has failed in these areas. Based on a thorough assessment of the board, the fund now sees a number of problems in the company's management, such as insufficient experience in capital management, insufficient experience in restructuring, transforming and creating company value both organically and inorganically (through M&A activity).
These business flaws and the lack of relevant experience of board members, which could be addressed through a foundation initiative, are reinforced by the financial data listed below.
Blucora Inc had revenue of $885.2M for 2021, compared to $755M for 2020 and $718M for 2019, respectively. On average, the company's revenues have grown 11.2% a year over the last 2 years from before the pandemic. Among other profitability metrics, operating profit was $28.5m in 2021 compared to -$275.2m in 2020 and $2.3m in 2019, and EBITDA was $71.9m in 2021 compared to -$235.3m in 2020 and $46.5m in 2019. Thus, for the last year, operating profit became positive again and increased by 1118% compared to the last pre-pandemic year, while EBITDA for the last year also became positive and increased by 55% compared to the last pre-pandemic year.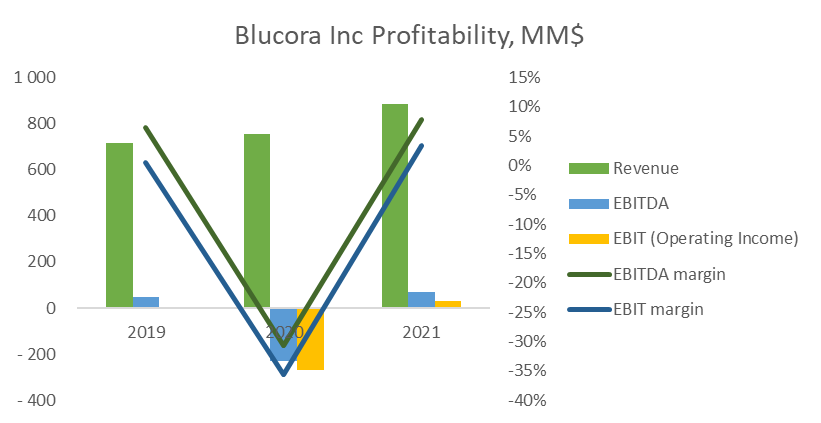 Source: Thompson Reuters Eikon
The company shows a fairly steady revenue growth trend from 2019, indicating a resilient immunity from coronavirus constraints and protection against unforeseen economic shocks affecting the business. The stagnation and decline in operating profit and EBITDA in 2020 is partly due to the write-off of goodwill (the value of the company's intangible assets) and partly reflects operational inefficiencies and poor business management by the current board.
In addition, the existence of operational inefficiencies and poor management is confirmed by the decline in operating cash flow from 2019. Moreover, the company faced financial implications related to the pandemic. The unexpected extension of tax filing deadlines caused by COVID-19 resulted in approximately $20 million in additional expenses in the tax preparation segment related to higher marketing costs, increased call centre staffing and other expenses as the company worked to complete a longer tax season.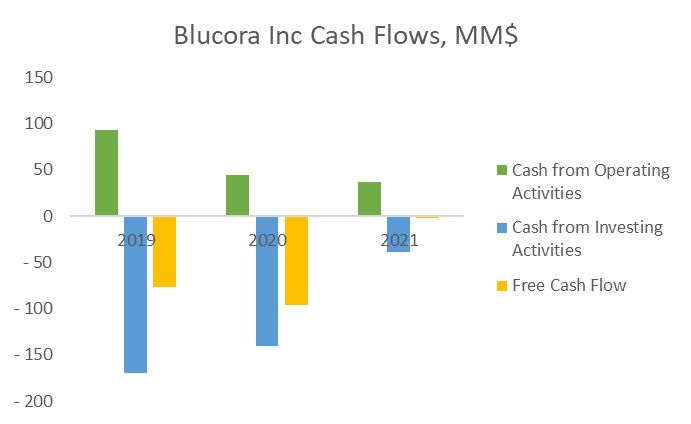 Source: Thompson Reuters Eikon
Regarding the debt burden, Net Debt / EBITDA has declined since 2019 and has recorded a level that is 6x below. This indicator remains within manageable levels, based on the historical state of the indicator. Also, the debt metrics have risen since 2019. This is explained by the fact that the company was raising debt capital for the acquisition of HKFS, which has now been renamed Avantax Planning Partners. With the acquisition of Avantax, the company gained additional points of growth: advisory assets increased by 29% year-on-year in 2019 and Avantax Planning Partners expanded the size of its managed asset portfolio by $5bn.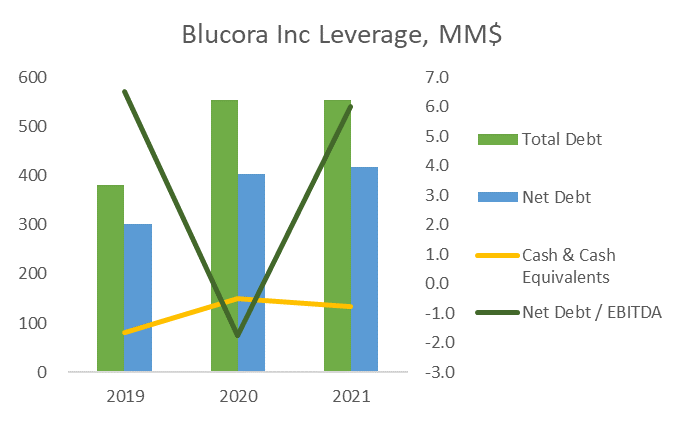 Source: Thompson Reuters Eikon
At the moment, by multiples, Blucora Inc as a whole is trading cheap relative to other companies in the industry:
EV/EBITDA - 11.85x | Industry Avg - 23.32x
EV/Revenue - 1.43x | Industry Avg - 6.24x
Price / Book - 2.48x | Industry Avg. - 4.64x
Price / FCF - 16.76x | Industry Avg. - 17.56x
P/E is trading higher relative to competitors. This is due to the outstripping growth rate of operating costs compared to the growth rate of revenues. In other words, this multiplier reflects operational inefficiencies that activists intend to correct.
PE - 110.59x | Industry Avg. - 20.9x
Forward PE - 8.61x | Industry Avg. - 13.47x
Source: Thompson Reuters Eikon
Due to the negative factors listed above, this business is valued below its industry average. However, thanks to an initiative by activist investment fund Engine Capital LP, the business is expected to grow faster than the industry.
The appointment of new management will help optimise the company's operations, due to which we can expect business margins to improve at the EBITDA level, contributing to the company's value.
Thus, this proposal for changes to the current board could have a significant positive impact on shareholder value.
Reason 2. Insider activity and M&A deals
An additional positive growth trigger is the purchase of company shares by insiders. Board member Emst Mark and CFO Mehlman Mark accounted for the biggest shareholding change, amounting to +94% and +23% of previous holdings respectively.
Emst Mark and Mehlman Mark currently hold 0.2% and 0.18% stakes in the company, worth $1.7m and $1.5m respectively. This behaviour among business insiders shows that the managers believe in the growth of the business, are showing their motivation and are willing to take responsibility by taking risks with their own money. In total, the insiders own 9.51% of the company.
In addition, there is an inorganic growth factor. The company had M&A deals in 2021, 2020 and 2019.
On the 26th of August 2021 Avantax, a leader in tax-focused financial planning, completed the acquisition of Headquarters Advisory Group, LLC, with total client assets of approximately $1.1 billion as of the 30th of June 2021. The acquisition expands the presence of its own RIA (registered investment advisor), Avantax (registered investment adviser) nationwide. Therefore, with the completion of the acquisition of Avantax Planning Partners, a total of $1.3 billion in total client assets has shifted from Avantax's independent contractor model to the RIA model. Thus, the $1.3 billion represented approximately 20% of the total client assets of the Avantax employee-based RIA model as of the 30th of June 2021. The total client assets of the Avantax employee-based RIA model include both the assets of Avantax Planning Partners and the $1.3 billion of acquired client assets that were previously part of the Avantax independent contractor model.
As previously mentioned, Bluecora, Inc. acquired the investment adviser Honkamp Krueger Financial Services Inc. and renamed it Avantax Planning Partners in 2020. The agreement on the deal amounted to $100 million. The acquisition gave Blucora valuable strategic and financial benefits from the deal after it closed. The CEO said that with the acquisition they were adding a fast-growing, highly profitable RIA (Registered Investment Advisory) business that would increase their addressable market (TAM) and expand Blucora's growth opportunities. The deal was expected to boost the company's revenue and margin growth. The implemented transaction contributed to an increase in EBITDA and cash flow.
Also in 2019, 1st Global Inc., a tax-focused asset management company that works with CPA (Certified Public Accountant) firms, was acquired for $180m in shares. At the time, 1st Global, headquartered in Dallas, was working with about 850 independent advisers who managed about $18 billion in combined client assets and $9 billion in paid advisory assets. It worked with about 350 CPA firms around the world. After the acquisition, Blucora gained around 4500 advisers managing around $60bn in total client assets.
Ratings of investment houses:
14.12.2021 // JPMorgan Chase & Co. // $22 target price
05.11.2021 // Barrington Research // $23 target price
Source: marketbeat.com
Conclusion:
Blucora Inc. has long stagnated in terms of shareholder value due to the presence of internal inefficiencies, which are key triggers of share price growth. With the activist fund's initiative to hire new, better-qualified board candidates, we expect Blucora shares to rise by at least 53.85% within one year.
How to take advantage of the idea?
Buy shares at a price of $19.5.
Allocate no more than 2% of your portfolio for purchase. To compile a balanced portfolio, you can use the recommendations of our analysts.
Sell when the price reaches $30.
How to Buy Blucora Inc.?
If you don't have an investment account yet, open it now: this can be done online, in just 10 minutes. All you need to do is fill out a short form and verify your account.
After opening an account, you can buy shares in either of the following ways:
Freedom24 Web Platform: In the Web Terminal section, type BCOR.US (Blucora Inc. ticker in the NASDAQ) in the search box, and select Blucora Inc. in the results. Open a secure session in the trading window on the right, select the number of shares you want to buy, and click Buy.
Freedom24 iPhone or Android App: Go to the Price screen and tab the search icon in the top right corner. In the search dialog that will show up, type BCOR.US (Blucora Inc. ticker in the NASDAQ) and select Blucora Inc. in the search results. You will then see the stock in the market watch; tap it and go to the Order tab in the dialog that shows up. Specify the number of shares you want to buy and click Buy.

*Additional information is available upon request. Investment in securities and other financial instruments always involves risks of capital loss. The Client should make himself aware at his own accord, including to familiarize himself with Risk Disclosure Notice. Opinions and estimates constitute our judgment as of the date of this material and are subject to change without notice. Commissions, fees or other charges can diminish financial returns. Past performance is not indicative of future results. This material is not intended as an offer or solicitation for the purchase or sale of any financial instrument. The opinions and recommendations herein do not take into account individual client circumstances, objectives, or needs and do not constitute an investment advice service. The recipient of this report must make their own independent decisions regarding any securities or financial instruments mentioned herein. Information has been obtained from sources believed to be reliable by Freedom Finance Europe Ltd or its affiliates and/or subsidiaries (collectively Freedom Finance). Freedom Finance Europe Ltd. do not warrant its completeness or accuracy except with respect to any disclosures relative to the Freedom Finance Europe Ltd. and/or its affiliates and the analyst's involvement with the issuer that is the subject of the research. All pricing is indicative as of the close of market for the securities discussed, unless otherwise stated.
https://www.blucora.com/investors

https://www.blucora.com/news-releases/news-release-details/blucora-comments-statement-engine-capital

Freedom Finance analysts perform a three-stage analysis. They select a promising industry based on the latest news, statistics and industry-specific metrics. They assess the supply and demand situation and its future development dynamics. Industry's investment attractiveness is mostly affected by the forecasted market growth rates; total addressable market, player concentration level and likeliness of a monopoly formation, as well as the level of regulation by various entities or associations.

The assessment is followed by the comparative analysis based on the selected sample. The sample comprises companies with a market capitalization of over USD 1 billion, but there is space for exceptions (when the suitable level of liquidity for company's securities is available on the stock exchange). The selected companies (peers) are being compared against each other based on multipliers (EV/S, EV/EBITDA, PE, P/FCF, P/B), revenue growth rates, marginality and profitability (operating income margin, net income margin, ROE, ROA), and business performance.

Having completed the comparative analysis, the analysts carry out a more in-depth research of the news about the selected company. They review company's development policy, information about its current and potential mergers and acquisitions (M&A activity), and assess the efficiency of company's inorganic growth and other news about it over the past year. The main objective at this stage is to identify the growth drivers and evaluate their stability, as well as the extent of impact they have on the business.

Based on all the data collected, the analysts determine the weighted forecasted figures of company's growth rates and proposed business marginality, which are used to calculate the company's multiplier-based estimated value. The said value enables setting the stock price target and stock value growth potential.

The expected timing of the idea implementation is set depending on the current market situation, volatility level and available forecasting horizon for industry and company development. The forecasting period is normally set between 3 and 12 months.