Our analysts cannot write ideas in all languages, so we show you their publications in English.
LESL: growth of almost 43% thanks to strong consumer demand for the company's products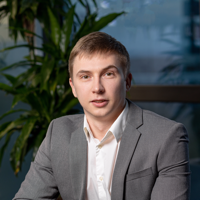 Max Manturov
Head of investment research regulated by CySec
02.03.2022
LESL: growth of almost 43% thanks to strong consumer demand for the company's products
Ticker:
LESL.US
Entry price: $21
Target price: $30
Growth potential: 42.86%
Time horizon: 6-12 months
Risk: High
Position size: 2%
The company
Leslie's Inc. is an American brand of pool care products. The company also provides pool equipment and repair services. The company sells its products through 952 locations in 38 states as well as through its websites. The company was founded in 1963 and is headquartered in Phoenix, Arizona.
What's the idea?
Capitalise on shares in Leslie's Inc, which could rise on the back of anticipated higher consumer demand for swimming pools and hot tubs.
Why do we like Leslie's Inc.?
Reason 1: High demand for the company's products is expected.
The CEO noted at the last quarterly conference that the pool and hot tub industry is benefiting from strong consumer demand. This demand is fuelled by a strong housing market driving investment in homes, a desire for a healthy outdoor lifestyle, an increased desire for a sense of safety and sanitation, and hybrid schedules and 'remote' working hours.
The CEO also commented on inflation:
"We haven't seen any signs of reducing in these macroeconomic trends. Add to that the inflation we have seen in the industry. Retail price inflation was almost 12% during the quarter. This was slightly ahead of our expectations, but we did not see any related slowdown in demand".
It is likely that the last statement about the relatively weak price elasticity to company products is due to the high demand for new homes with a simultaneous shortage of new homes and, consequently, higher real estate prices. With inflation, house prices are rising significantly today. With low mortgage rates and high inflation, activity in the housing market increases - it is clear that even with rising mortgage rates activity will maintain its momentum if high inflation expectations persist, while stimulating demand for all home-related products (including pool goods).
House prices in general are important to the economy because of the so-called 'wealth effect'. This means that as house prices rise homeowners feel richer, and this affects how they view their future economic prospects. In particular, when people feel richer they spend more on average even if their usual income has not changed in any way. (Sources: Redfin, Trading Economics)
"Google Trends" reflect a strong interest in the search terms "pool installation" and "hot tub", which may indicate a strict backlog of orders for the company in the future.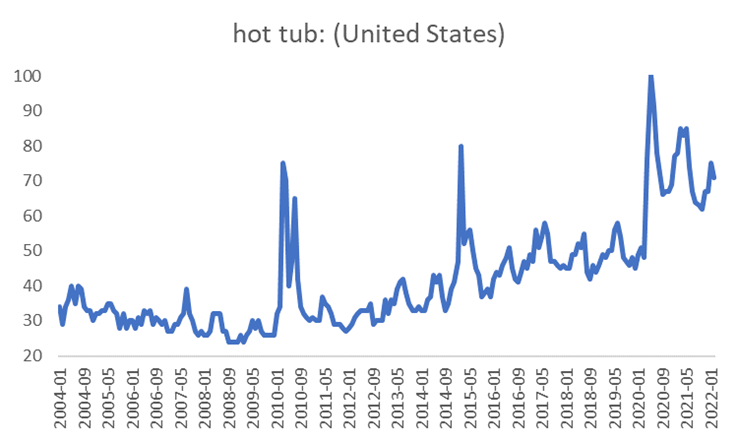 Source: Google Trends
The "pool installation" query also reflects the seasonality of the business: in winter demand drops and the company builds up inventory while reducing its cache (as seen in the last quarterly reports), then with the warmer weather demand recovers and the company reaps the benefits of its market dominance. After the pandemic, the "magnitude" of requests during the warm season has increased, with more requests during the winter season compared to the winter seasons before the pandemic. This signals a shift in consumer habits and, consequently, an increased demand for the company's products.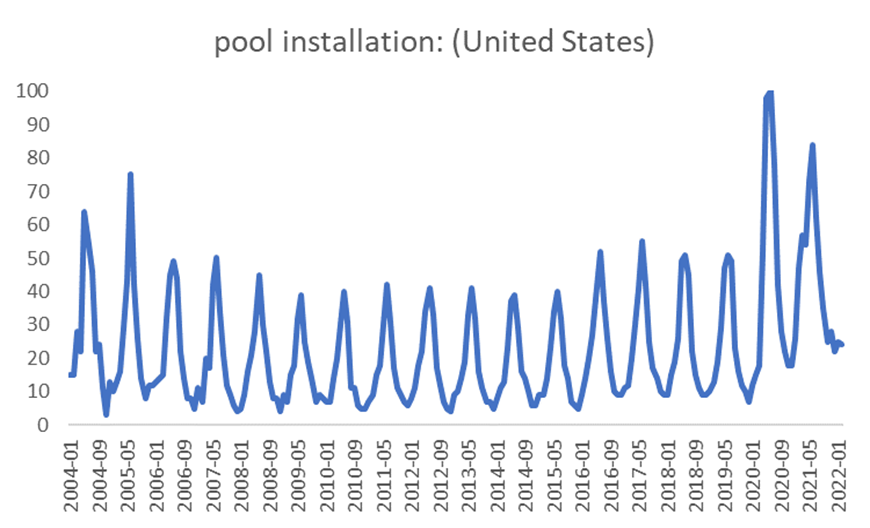 Source: Google Trends
At the annual conference, management shared industry forecasts. Management emphasised the acceleration of housing investment trends. In particular, it was noted that in the last 12 months, 33% of Americans are involved in projects related to home renovation. In addition, it was noted that millennials are spending 27% more than last year in the home retail category (information supported by forecasts from McKinsey). Furthermore, an optimistic forecast of pool installations growth through 2024 was presented (based on data from P.K. data).
Reason 2. Improved financial results
The company shows stable growth dynamics of revenue and operating cache margins. The year-on-year revenue growth was 20.7%, EBITDA growth was 34.4%, operating cach flow growth was 64% and in absolute terms reached $170 million.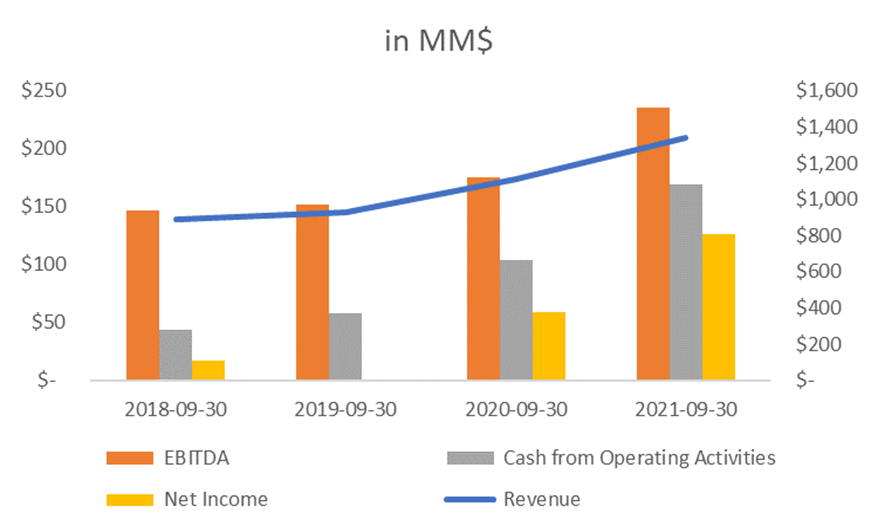 Source: Ycharts
Historically, Net Debt/EBITDA has been decreasing. Over the last year, the ratio has fallen from 5.88 to 1.91 - indicating efficient management of the capital structure. Part of the cache is used to repay debt while still being able to invest in working capital, in particular inventory, without any cash gaps.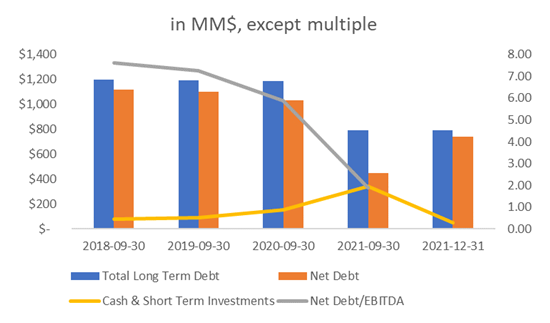 Source: Ycharts
In the above chart, the annual data is given as well as the data for the last quarter in the rightmost column. Due to the seasonality of the business, the data for the first reporting quarter does not reflect the objective situation. Only the debt level is informative, and there is no point in looking at it relative to EBITDA, as the company is not operating at full capacity in the first quarter. On the contrary, they are preparing for the season, building up inventories by investing their cache.
At the moment, Leslie's Inc. is trading marginally cheaper relative to other companies in the industry by multiples:
P/E (FWD) - 22.75 | Industry - 24.24
EV/EBITDA - 18.36 | Industry - 20.6
EV/Revenue - 2.82 | Industry - 3.12
PEG - 0.24 | Industry - 0.3
At the annual conference, management shared their expectations (guidance) for 2022. Revenue is expected to be $1475M - $1500M ~11.7% growth from 2021. Adjusted EBITDA is expected to be $295M - $305M, up 9-13% YoY in 2021. Adjusted net income will be $180 - $190M, up 12-18% YoY.
Management plans to grow the business both organically and through M&A deals. Revenue is expected to grow by $30M+ in 2022 through acquisitions of pool-related businesses in strategically advantageous markets. The rest of the growth is expected to come from the opening of 10 new locations for individuals, as well as through purposeful targeting as part of the digital strategy.
Reason 3. Confirmation of the CEO's ambitious plans by acquiring shares in the company on the open market. Expected buyback of $148m.
A general rule of observation on insiders was formulated by the famous investor Peter Lynch: they can sell for any reason, but they always buy for one - they think the stock will go up.
Since the IPO, insiders have only been selling shares and realising their bonuses through options, but that changed on the 8th of February 2022.
Insider Stephen M. Waddell purchased 25,000 shares of the firm's stock in a transaction on Tuesday the 8th of February 2022. The shares were purchased at an average price of $19.80 per share for a total value of $495,000. The CEO followed suit, purchasing 101,700 shares at a price of 19.66 for a total value of $1,999,422.
Moreover, during the first reporting quarter, management bought back 7.5 million shares at an average price of $20.25 for a total of $152 million. A total of $300 million was authorised. For the buyback, therefore, they have $148 million left to repurchase shares and are still evaluating buyback opportunities. Management expects to buy back the remainder in 2022 and the approach is based on an assessment of various factors such as: financial position, investment opportunities to drive growth and market conditions.
Ratings of investment houses:
17.12.2021 // Berenberg Bank // $31 target price
10.12.2022 // William Blair // $29 target price
10.12.2022 // Loop Capital // $28 target price
10.12.2022 // Piper Sandler // $30 target price
Source: marketbeat
Conclusion:
Leslie's Inc. presents a unique opportunity to capitalise on shifting consumer habits related to consumer housing preferences. Demand for the company's products and services is supported by a strong real estate market. For this reason, the company's product line is not price elastic and protects the investor from inflation. The company shows rapid business growth, a strong balance sheet, high margins and effective quality of capital structure management. Moreover, the management backs up its words with strong intentions by acquiring the company's shares in the open market. The planned buybacks are also an added bonus for the investor.
How to take advantage of the idea?
Buy shares at a price of $21.
Allocate no more than 2% of your portfolio to buying. You can use our analysts' recommendations to build a balanced portfolio.
Sell when the price reaches $30.
How to Buy Leslie's Inc. shares?
If you don't have an investment account yet, open it now: this can be done online, in just 10 minutes. All you need to do is fill out a short form and verify your account.
After opening an account, you can buy shares in either of the following ways:
Freedom24 Web Platform: In the Web Terminal section, type LESL.US (Leslie's Inc. ticker in the NASDAQ) in the search box, and select Leslie's Inc. in the results. Open a secure session in the trading window on the right, select the number of shares you want to buy, and click Buy.
Freedom24 iPhone or Android App: Go to the Price screen and tab the search icon in the top right corner. In the search dialog that will show up, type LESL.US (Leslie's Inc. ticker in the NASDAQ) and select Leslie's Inc. in the search results. You will then see the stock in the market watch; tap it and go to the Order tab in the dialog that shows up. Specify the number of shares you want to buy and click Buy.

*Additional information is available upon request. Investment in securities and other financial instruments always involves risks of capital loss. The Client should make himself aware at his own accord, including to familiarize himself with Risk Disclosure Notice. Opinions and estimates constitute our judgment as of the date of this material and are subject to change without notice. Commissions, fees or other charges can diminish financial returns. Past performance is not indicative of future results. This material is not intended as an offer or solicitation for the purchase or sale of any financial instrument. The opinions and recommendations herein do not take into account individual client circumstances, objectives, or needs and do not constitute an investment advice service. The recipient of this report must make their own independent decisions regarding any securities or financial instruments mentioned herein. Information has been obtained from sources believed to be reliable by Freedom Finance Europe Ltd or its affiliates and/or subsidiaries (collectively Freedom Finance). Freedom Finance Europe Ltd. do not warrant its completeness or accuracy except with respect to any disclosures relative to the Freedom Finance Europe Ltd. and/or its affiliates and the analyst's involvement with the issuer that is the subject of the research. All pricing is indicative as of the close of market for the securities discussed, unless otherwise stated.
https://ir.lesliespool.com/

https://www.redfin.com/us-housing-market

https://tradingeconomics.com/

https://trends.google.com/

https://www.mckinsey.com/

https://www.pkdata.com/

Freedom Finance analysts perform a three-stage analysis. They select a promising industry based on the latest news, statistics and industry-specific metrics. They assess the supply and demand situation and its future development dynamics. Industry's investment attractiveness is mostly affected by the forecasted market growth rates; total addressable market, player concentration level and likeliness of a monopoly formation, as well as the level of regulation by various entities or associations.

The assessment is followed by the comparative analysis based on the selected sample. The sample comprises companies with a market capitalization of over USD 1 billion, but there is space for exceptions (when the suitable level of liquidity for company's securities is available on the stock exchange). The selected companies (peers) are being compared against each other based on multipliers (EV/S, EV/EBITDA, PE, P/FCF, P/B), revenue growth rates, marginality and profitability (operating income margin, net income margin, ROE, ROA), and business performance.

Having completed the comparative analysis, the analysts carry out a more in-depth research of the news about the selected company. They review company's development policy, information about its current and potential mergers and acquisitions (M&A activity), and assess the efficiency of company's inorganic growth and other news about it over the past year. The main objective at this stage is to identify the growth drivers and evaluate their stability, as well as the extent of impact they have on the business.

Based on all the data collected, the analysts determine the weighted forecasted figures of company's growth rates and proposed business marginality, which are used to calculate the company's multiplier-based estimated value. The said value enables setting the stock price target and stock value growth potential.

The expected timing of the idea implementation is set depending on the current market situation, volatility level and available forecasting horizon for industry and company development. The forecasting period is normally set between 3 and 12 months.