Our analysts cannot write ideas in all languages, so we show you their publications in English.
Uncertainty surrounding 51Job's acquisition promises a 12.25% premium for investors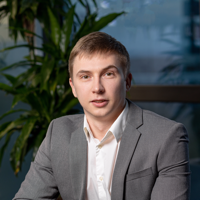 Max Manturov
Head of investment research regulated by CySec
24.02.2022
Uncertainty surrounding 51Job's acquisition promises a 12.25% premium for investors
Ticker:
JOBS.US
Entry price: $51
Target price: $57,25
Growth Potential: 12.25%
Time horizon: 6 months
Risk: High
Position size: 1%
The company
51job Inc. is a leading nationwide provider of comprehensive HR services in China. The company focuses on online recruitment advertising: their websites and associated mobile apps are used by a wide base of corporate employers, reach a broad and diverse audience of job seekers and collect job postings from nearly 200 cities across China.
What's the idea?
Earn money on 51job shares, which could rise thanks to an expected acquisition by a consortium consisting of DCP Capital Partners, Ocean Link Partners and 51job CEO Rick Yang for $57.25 a share in cash.
Why do we like 51job Inc.?
Reason 1. Attractive premium
Mergers without regulatory or other risks tend to offer small returns - while high-risk deals have huge premiums and are more of a gamble than arbitrage. This case falls between these two extremes.
We believe that because of delisting concerns many investors are avoiding the possibility of making money on a potential merger, which in turn creates an attractive opportunity.
Merger chart
On 17 September 2020, JOBS received a preliminary non-binding cash offer of $79.05 from DCP Capital Partners.
On 4 May 2021, DCP submits an updated offer with the same remuneration of $79.05
On 21 June 2021, JOBS signs a definitive agreement with the consortium for $79.05
On 8 November 2021, the Consortium negotiates with the regulators about the latest regulatory changes that may affect the deal. The price is reduced by more than 20%.
On 12 January 2022, the Consortium proposes to reduce the price by 28% from $79.05 to $57.25 per share. They have reportedly made changes to the structure of their offer to help gain regulatory approval in China. The company did not provide a definitive completion date for the deal in its latest report.
Today, the shares are trading at a 24% discount to the planned buyout price . Normally this would mean that a deal is likely to fall through. But Chinese ADRs in the midst of a merger often trade at steep discounts compared with US companies.
Reason 2. A multi-product strategy linking the entire HR value chain in a scalable business model
The company provides a wide range of HR services in the following segments:
1) online recruitment services (58% of revenue)
2) Business process outsourcing, campus recruitment, training, assessment and placement services (42% of revenue)
The recruitment segment has the following advantages
Primarily targeting white collar workers in the service sector;
Multiple targeting platforms targeting specific labour force segments and employee demographics:
Developing communities of job seekers to increase engagement and efficiency
Provision of opportunities and support throughout the employee's career path, including every stage of the talent lifecycle
In the other human resources services segment, there are a number of offshoots that provide a competitive advantage for the company:
HR outsourcing - social security and benefits processing, payroll, payroll and taxes, compliance
Training and assessment - live seminars and workshops, experiential learning, behavioural and technical assessment tests, podcasts, videos and e-learning platform
Campus services - helping employers to develop a campus recruitment strategy, promoting the employer brand among alumni and students
Placement projects - outsourcing the recruitment process, job fairs and recruitment abroad, executive search and placement services
In the last 12 months, the company's revenue has been above 2019. Judging by revenue, the company has recovered from the pandemic. However, EBITDA has stopped repeating the revenue trend: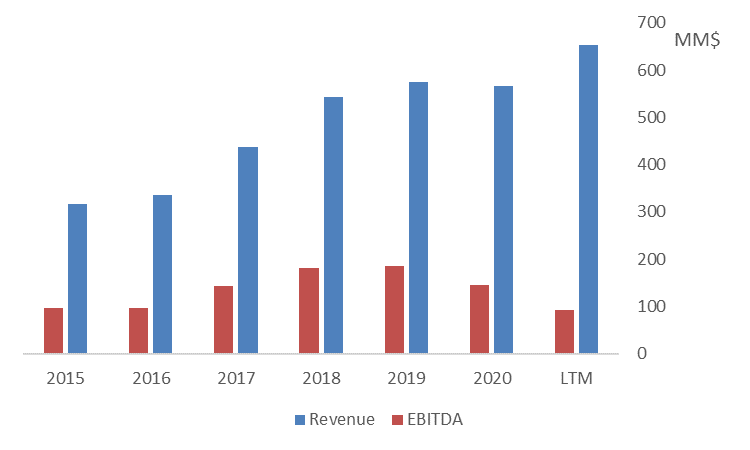 Source: Thomson Reuters Eikon

The reason for this is an increase in administrative costs, namely marketing and sales expenses. Due to the lack of debt, the company's net profit tends to converge with operating profit, with a difference in tax delta as well as accounting accruals. Therefore, operating profit can represent a smoothed net profit. The graph shows a strong inverse correlation between costs (SG&A) and operating profit. The figures are shown as a percentage of revenue.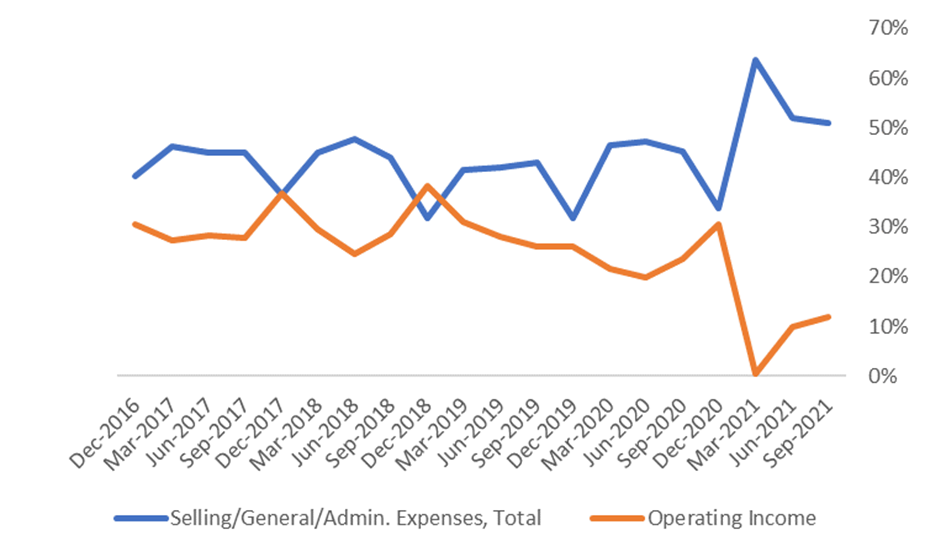 Source: Thomson Reuters Eikon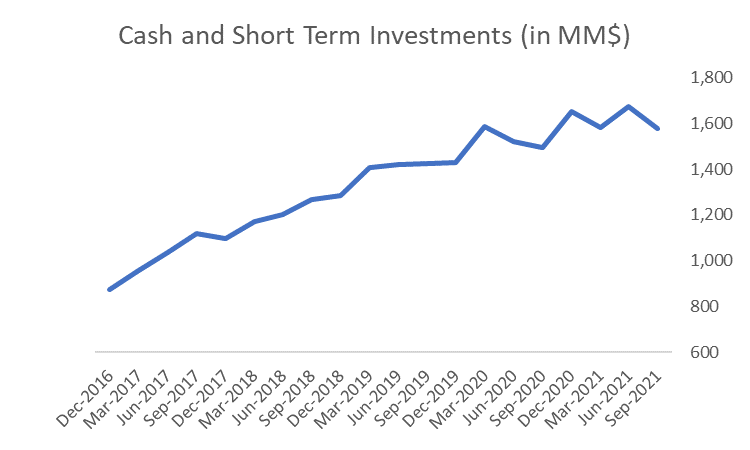 Source: Ycharts

These multiples signal to us that despite the emergence of an acquisition contender, its shares are trading at optimal levels relative to its competitors, without being overvalued:
EV/EBITDA (TTM) - 16.68x vs. industry average of 16.3x
EV/EBITDA (FWD) - 8.45x vs. industry average of 11.8x
EV/Revenue - 2.71x versus industry average of 4.23x
P/CF - 15.37x vs. industry average - 31.8x
Source: Seeking alpha
Below is the company's historical P/E range. It has been table in the 25-40 range over the last year: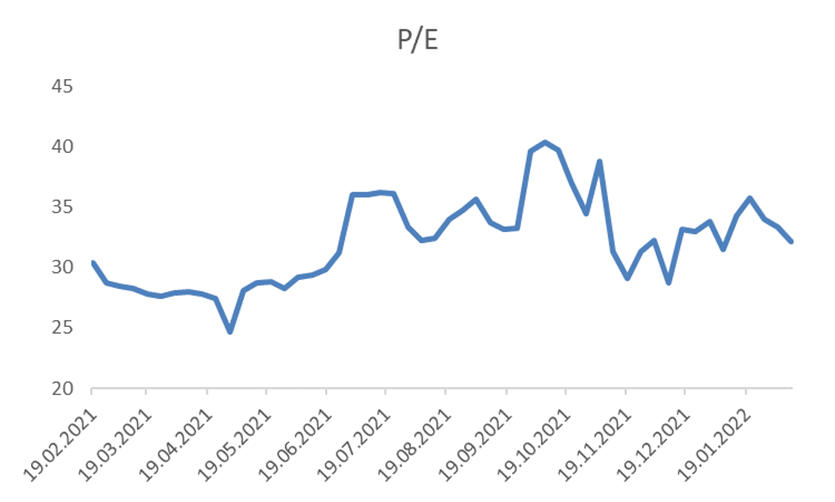 Source: Thomson Reuters Eikon
Risks

1) Concerns amid geopolitics
Stocks closed a few weeks ago at a low. With the current situation on the Chinese stock exchanges, the risk is significant. Many investors are fearful. Here are some of the recent headlines:
China proposes stricter rules for overseas listings
DiDi Global to be delisted in the US
China seeks to ban companies from listing abroad
None of this directly affects the JOBS merger, but fears of potential deal cancellation due to regulatory restrictions worry investors and arbitrage traders
2) Uncertainty on the part of the company's board
The board warns the company's shareholders that they have only received the offer letter and that no decisions have been taken in relation to the proposed revised transaction. The company also makes no commitment to provide an update on the proposed revised transaction.
3) Downside risk
Prior to the consortium's first offer (September 2020) to acquire the company, the price was $66 per share, today the price is $49.8 per share. If the deal is cancelled, downside risk will be limited to the exit of the remaining arbitrage investors/traders from the stock.
Conclusion:
Before the first offer to buy the company the share price was higher than now, many arbitrage traders lost faith in a positive outcome, exited the stock and thereby limited our downside risk. In our view, the trade is still highly probable. With an expected premium and limited downside, this idea offers a favourable risk/reward ratio.
How to take advantage of the idea?
Buy shares at a price of $51.
Allocate no more than 1% of your portfolio to buying. You can use our analysts' recommendations to build a balanced portfolio.
Sell when the price reaches $57,25.
How to Buy 51job Inc. shares?
If you don't have an investment account yet, open it now: this can be done online, in just 10 minutes. All you need to do is fill out a short form and verify your account.
After opening an account, you can buy shares in either of the following ways:
Freedom24 Web Platform: In the Web Terminal section, type JOBS.US (51job Inc. ticker in the NASDAQ) in the search box, and select 51job Inc. in the results. Open a secure session in the trading window on the right, select the number of shares you want to buy, and click Buy.
Freedom24 iPhone or Android App: Go to the Price screen and tab the search icon in the top right corner. In the search dialog that will show up, type JOBS.US (51job Inc. ticker in the NASDAQ) and select 51job Inc. in the search results. You will then see the stock in the market watch; tap it and go to the Order tab in the dialog that shows up. Specify the number of shares you want to buy and click Buy.

*Additional information is available upon request. Investment in securities and other financial instruments always involves risks of capital loss. The Client should make himself aware at his own accord, including to familiarize himself with Risk Disclosure Notice. Opinions and estimates constitute our judgment as of the date of this material and are subject to change without notice. Commissions, fees or other charges can diminish financial returns. Past performance is not indicative of future results. This material is not intended as an offer or solicitation for the purchase or sale of any financial instrument. The opinions and recommendations herein do not take into account individual client circumstances, objectives, or needs and do not constitute an investment advice service. The recipient of this report must make their own independent decisions regarding any securities or financial instruments mentioned herein. Information has been obtained from sources believed to be reliable by Freedom Finance Europe Ltd or its affiliates and/or subsidiaries (collectively Freedom Finance). Freedom Finance Europe Ltd. do not warrant its completeness or accuracy except with respect to any disclosures relative to the Freedom Finance Europe Ltd. and/or its affiliates and the analyst's involvement with the issuer that is the subject of the research. All pricing is indicative as of the close of market for the securities discussed, unless otherwise stated.
https://ir.51job.com/ir/IRMain.php


Freedom Finance analysts perform a three-stage analysis. They select a promising industry based on the latest news, statistics and industry-specific metrics. They assess the supply and demand situation and its future development dynamics. Industry's investment attractiveness is mostly affected by the forecasted market growth rates; total addressable market, player concentration level and likeliness of a monopoly formation, as well as the level of regulation by various entities or associations.

The assessment is followed by the comparative analysis based on the selected sample. The sample comprises companies with a market capitalization of over USD 1 billion, but there is space for exceptions (when the suitable level of liquidity for company's securities is available on the stock exchange). The selected companies (peers) are being compared against each other based on multipliers (EV/S, EV/EBITDA, PE, P/FCF, P/B), revenue growth rates, marginality and profitability (operating income margin, net income margin, ROE, ROA), and business performance.

Having completed the comparative analysis, the analysts carry out a more in-depth research of the news about the selected company. They review company's development policy, information about its current and potential mergers and acquisitions (M&A activity), and assess the efficiency of company's inorganic growth and other news about it over the past year. The main objective at this stage is to identify the growth drivers and evaluate their stability, as well as the extent of impact they have on the business.

Based on all the data collected, the analysts determine the weighted forecasted figures of company's growth rates and proposed business marginality, which are used to calculate the company's multiplier-based estimated value. The said value enables setting the stock price target and stock value growth potential.

The expected timing of the idea implementation is set depending on the current market situation, volatility level and available forecasting horizon for industry and company development. The forecasting period is normally set between 3 and 12 months.