Our analysts cannot write ideas in all languages, so we show you their publications in English.
Hasbro Inc: potential 36.5% growth due to investment in undervalued subsidiary and board replacement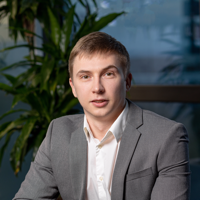 Max Manturov
Head of investment research regulated by CySec
23.02.2022
Hasbro Inc: potential 36.5% growth due to investment in undervalued subsidiary and board replacement
Ticker:
HAS.US
Entry price: $94.5
Target price: $129
Growth Potential: 36.5%
Time Horizon: 12 months
Risk: Medium
Position size: 2%
The company
Hasbro Inc. is a games and entertainment company that sells its products to wholesalers, distributors, chain shops and other traditional retailers.
What's the idea?
To make money on shares in Hasbro Inc. (HAS), which could rise thanks to an initiative by activist investment fund Alta Fox Capital Management. This fund is proposing a strategy that involves replacing the current board of directors and focusing on a valuable subsidiary known as Wizards of the Coast ("WOTC").
Why do we like Hasbro Inc.?
Reason 1. Underestimation of the WOTC subsidiary
WOTC, a company bought by Hasbro in 1999 for $400 million, has long offered people some pretty interesting and engaging products: the industry-leading collectible card game Magic: The Gathering ("MTG") and the fantasy role-playing game Dungeons & Dragons ("D&D"). MTG and D&D are best-in-class strategy and role-playing games with a cult following and an ever-growing number of fans. While the games originated in tabletop settings, both have moved to multi-channel approaches with the ability to play online and offline.
Magic: The Gathering - founded in 1993. A collectible Card Game (TCG'). To draw an analogy with chess, this game contains hundreds and thousands of pieces, where each player can customise their own boards. WOTC is constantly creating new MTG cards and has different game modes that use only certain types of cards (e.g. Limited, Standard, Modern, Legacy, Vintage, Commander).
Dungeons & Dragons - founded in 1974. A global role-playing game (RPG); a precursor to successful video games such as World of Warcraft and Skyrim. Each player in D&D chooses their own character with unique attributes/skills that help determine the successes/failures of the group as the story progresses. WOTC is constantly creating new worlds, challenges and adventures for players that are released in new editions of the D&D 'rulebooks'.
Licensed digital games are also available. Third-party game developers often collaborate with Hasbro to create games based on the company's intellectual property. Hasbro receives royalties from the sales of these video games in the secondary market (revenues registered in the licensed digital games segment of WOTC).
Key value drivers:
MTG and D&D are legendary games with high cash flow margins with almost 30 and 50 years of history respectively, as the variable cost of goods sold ("COGS") for both physical products is mainly related to printing and distribution (while the variable COGS is almost zero for online sales). As the quality and consistency of new releases has improved for both MTG and D&D, the same has happened for players and revenues.
● Monetisation of MTG through:
Ongoing releases of new paper and online "booster-pack/box" collectible cards, as well as several other products.
The product is distributed through: a global network of 8000 hobby shops, major worldwide retailers, proprietary and 3P (3rd parties) online platforms.
Players use the cards they unlock from decks to create their own unique and custom decks to play against each other.
● D&D monetises its customer base through:
The release of new books with new characters, scenarios and storylines, allowing players to constantly experience new role-playing environments and objectives.
The products are sold through the same distribution network as MTG, including MTG's own online and 3P channels.
D&D also earns significant licensing revenue from branding, video game and affiliate websites that help promote the game online.
Network effects: more than 50 million people have played MTG today, despite the fact that the game grew only through word of mouth and limited marketing (no TV show or previous successful video game franchise). From time to time Hasbro has provided key performance indicator (KPI) data related to MTG at its earning calls over the past few years, which speak to its network effects and strong player engagement and retention rates:
● In 2019, Hasbro's CEO said there were 10 million active players in the game.
● In 2019, Chris Cox, president of WOTC and future CEO of Hasbro, stated that the average MTG player plays for eight years before life takes them away from their hobby for a while (new job, kids, etc.). Nine times out of ten they just take a break from the game and eventually come back.
● Shortly after Arena launched in 2018, the average player played eight hours a week in Arena. That playing time increased to nine hours per week in 2019 and remained at that level until the third quarter of 2021.
● Tools such as Reddit and Facebook groups allowed players to get more involved and interact with each other, making it easier for them to communicate.
● The creation of MTG-based consumer content has never been more dynamic:
Footage of the Arena's gameplay on Youtube/Twitch.
Tips and strategies on how to build a deck are posted on numerous websites/forums.
Trading/investing tips and tools for the MTG secondary market posted on various specialist MTG websites.
● Arena has greatly improved MTG's network effects by removing the game's barriers to entry.
● As the offerings in the Arena continue to expand (e.g. deployment of new MTG formats such as Pioneer and Commander), the platform will attract more and more MTG players. More players should reduce player matching times, which in turn should improve engagement, which will ultimately further enhance the network effects of the Arena.
EBITDA from this business accounted for the largest share of the total at 46% - almost half of all EBITDA for 2021. Also, the EBITDA margin of this business remained in the 40-50% range from 2019 to 2021. As a standalone entity, WOTC's long-term revenue growth and margin profile will improve markedly and the market will be able to properly value an asset that opens up significant value for HAS shareholders.
Thus, focusing and concentrating investments on WOTC will allow the company to significantly increase its profitability and share price, which will allow investors to profit from the growth in the value of the company's securities.
Reason 2. Replacing the current board of directors
Adverse action by the board of directors:
Although WOTC's contribution to Hasbro's profits is around 50%, a significant growth profile and unit economics of the top percentile, the board continues to reallocate profits from WOTC's core franchises to non-WOTC intellectual property.
Despite the fact that the vast majority of Hasbro's total revenue and EBITDA growth over the past decade has come from WOTC, the board continues to use WOTC as a cash cow, refusing to reinvest heavily in major non-emergency properties (for example, MTG Arena appeared as a defensive move for Hearthstone, released 4.5 years ago), and instead diverting WOTC cash flow to fund both high value intellectual property acquisitions and speculative non-core video game projects.
The board-controlled 'Brand Plan' strategy over the past decade has seen WOTC as an afterthought, as evidenced by the lack of investment and media attention that MTG and D&D have seen to date.
The board has inefficiently allocated capital to speculative investments with deplorable results. Too much emphasis is placed on Hasbro's consumer business and underestimated WOTC.
Hasbro's current board of directors is filled solely with consumer goods and entertainment experience experts and lacks the gaming expertise most important to WOTC, Hasbro's most valuable segment.
Under the current board composition, executive pay and remuneration structures at Hasbro have been exaggerated: Hasbro's CEO can achieve higher expected payouts through options and easily achievable targets through both shareholders and additional reinvestment in WOTC, despite being well behind both Hasbro's benchmark and the broader market.
No one on the board has invested in Hasbro stock, only making sales over the past 10 years, which suggests a lack of motivation on the part of the management team to rapidly develop and improve the business.
Thus, replacing a board that negatively affects the company can have a significant positive impact on business development and shareholder value growth, which will generate good returns for investors in the future.
Reason 3. Improved financial results
For 2021, Hasbro, Inc. generated revenue of $6.42 billion compared to $5.5 billion for 2020 and $4.7 billion for 2019. On average, the company's revenue has grown 16.63% per year over the past 2 years since the pre-pandemic period. Among other profitability metrics, operating profit was $762m in 2021 compared to $523m in 2020 and $696m in 2019, and EBITDA was $878m in 2021 compared to $1.17 billion in 2020 and $962m in 2019. Thus, over the 2-year period, operating profit rose by an average of 10.36%, while EBITDA fell marginally by an average of 1.58% per year from the pre-pandemic period.
Source: Ycharts
This company has shown a fairly consistent pattern of profitability since the pandemic began, suggesting strong immunity to coronavirus restrictions and protection against unforeseen economic shocks affecting business profitability.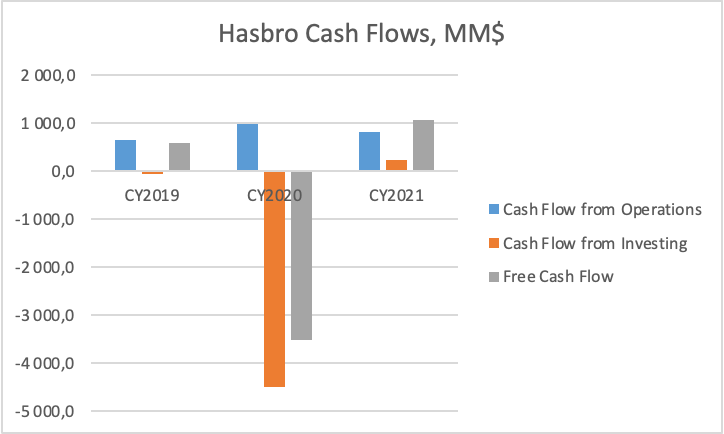 Source: Ycharts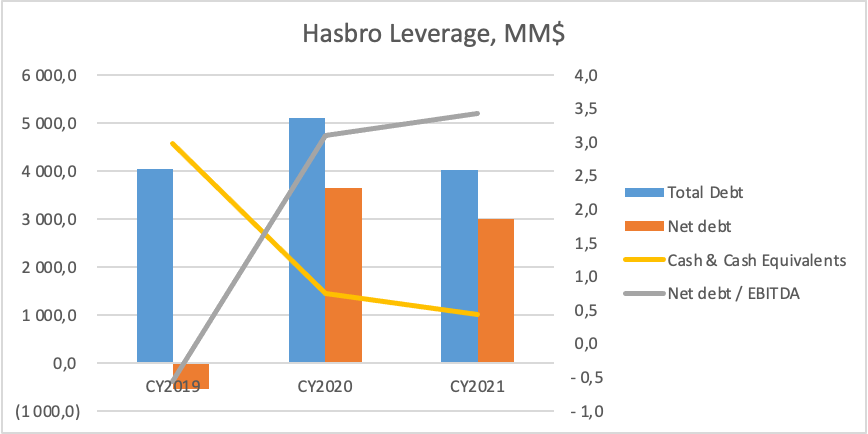 Source: Ycharts
Regarding the debt load, it is worth paying attention to Net Debt / EBITDA, which has risen sharply since 2020, but has remained within the normal range of 3.5x. This is explained by the fact that net debt increased significantly due to a reduction in cash on the company's balance sheet, mainly due to investments in the development of video games G.I. Joe, Transformers, Micronauts and Ouija Board, which is also reflected in cash flows from investing activities.
At the moment, Hasbro is trading cheap relative to other companies in the industry by multiples:
EV/EBITDA - 11.88 | Industry Avg - 16.59
EV/EBIT - 21.69 | Industry Avg - 23.33
EV/Revenue - 2.573 | Industry Avg - 3.646
EV/FCF - 24.11 | Industry Avg - 25.46
EV/Assets - 1.698 | Industry Avg - 1.880
EBITDA with revenue is expected to grow at a much faster pace because of increased investment in the WOTC subsidiary, which will boost both physical sales and online sales, which have marginal costs close to zero. This will increase overall EBITDA margins as the company grows, making the business scalable.
Reasons why Hasbro can trade so cheaply relative to its competitors:
Ineffective capital allocation and the current board's failure to take into account WOTC's most valuable asset prevents profitability ratios from growing rapidly, which may also have contributed to the lack of EBITDA growth.
Despite Hasbro's organic growth from ~20% EBITDA in 2016 to ~50% in 2021, Hasbro only started reporting revenue and EBITDA for this segment in February 2021 and continues to refuse to publish important key performance indicators.
Hasbro is stifling WOTC's growth potential by managing the segment like a cash cow, limiting its internal reinvestment opportunities and directing its cash flow to investments in margin-diluting Hasbro-related lines of business.
RemainCo's (Consumer & Entertainment division) 'Brand Project' strategy has failed to create value for shareholders, but Hasbro's board continues to double down on the strategy despite its poor performance.
Hasbro's board of directors is made up almost entirely of toy and media executives, despite the fact that WOTC now accounts for more than half of the company's value.
Additionally, it is worth looking at valuation multiples, which suggest that the company trades at the median level relative to the entire industry:
Price / Book - 4.3 | Median - 4.3
Price / Sales - 2.1 | Median - 2.1
Price / FCF - 19.7 | Median - 19.9
Due to the negative factors listed above, the business is priced on average at the level of its industry. However, thanks to an initiative by activist investment fund Alta Fox Capital Management and a focus on a subsidiary of Wizards of the Coast, the business is expected to grow faster than the industry overall - this is also a favourable factor for Hasbro stock purchases.
Ratings of investment houses:
08.02.2022 // DA Davidson // target price $121
08.02.2022 // JPMorgan Chase & Co. // $99 target price
Source: marketbeat.com
Conclusion:
Hasbro has internal inefficiencies that are key triggers for share price growth. Due to a decent undervaluation of the company's most valuable asset, which requires close attention and investment for future development, as well as the initiative to replace the board of directors, which negatively affects growth and development of the business itself, we expect Hasbro shares to rise by at least 100% within 3 years (~33% per annum).
How to take advantage of the idea?
Buy shares at a price of $94.5.
Allocate no more than 2% of your portfolio to buying. You can use our analysts' recommendations to build a balanced portfolio.
Sell when the price reaches $129.
How to Buy Hasbro Inc.?
If you don't have an investment account yet, open it now: this can be done online, in just 10 minutes. All you need to do is fill out a short form and verify your account.
After opening an account, you can buy shares in either of the following ways:
Freedom24 Web Platform: In the Web Terminal section, type HAS.US (Hasbro Inc. ticker in the NASDAQ) in the search box, and select Hasbro Inc. in the results. Open a secure session in the trading window on the right, select the number of shares you want to buy, and click Buy.
Freedom24 iPhone or Android App: Go to the Price screen and tab the search icon in the top right corner. In the search dialog that will show up, type HAS.US (Hasbro Inc. ticker in the NASDAQ) and select Hasbro Inc. in the search results. You will then see the stock in the market watch; tap it and go to the Order tab in the dialog that shows up. Specify the number of shares you want to buy and click Buy.

*Additional information is available upon request. Investment in securities and other financial instruments always involves risks of capital loss. The Client should make himself aware at his own accord, including to familiarize himself with Risk Disclosure Notice. Opinions and estimates constitute our judgment as of the date of this material and are subject to change without notice. Commissions, fees or other charges can diminish financial returns. Past performance is not indicative of future results. This material is not intended as an offer or solicitation for the purchase or sale of any financial instrument. The opinions and recommendations herein do not take into account individual client circumstances, objectives, or needs and do not constitute an investment advice service. The recipient of this report must make their own independent decisions regarding any securities or financial instruments mentioned herein. Information has been obtained from sources believed to be reliable by Freedom Finance Europe Ltd or its affiliates and/or subsidiaries (collectively Freedom Finance). Freedom Finance Europe Ltd. do not warrant its completeness or accuracy except with respect to any disclosures relative to the Freedom Finance Europe Ltd. and/or its affiliates and the analyst's involvement with the issuer that is the subject of the research. All pricing is indicative as of the close of market for the securities discussed, unless otherwise stated.
https://investor.hasbro.com/

https://www.altafoxcapital.com/

Freedom Finance analysts perform a three-stage analysis. They select a promising industry based on the latest news, statistics and industry-specific metrics. They assess the supply and demand situation and its future development dynamics. Industry's investment attractiveness is mostly affected by the forecasted market growth rates; total addressable market, player concentration level and likeliness of a monopoly formation, as well as the level of regulation by various entities or associations.

The assessment is followed by the comparative analysis based on the selected sample. The sample comprises companies with a market capitalization of over USD 1 billion, but there is space for exceptions (when the suitable level of liquidity for company's securities is available on the stock exchange). The selected companies (peers) are being compared against each other based on multipliers (EV/S, EV/EBITDA, PE, P/FCF, P/B), revenue growth rates, marginality and profitability (operating income margin, net income margin, ROE, ROA), and business performance.

Having completed the comparative analysis, the analysts carry out a more in-depth research of the news about the selected company. They review company's development policy, information about its current and potential mergers and acquisitions (M&A activity), and assess the efficiency of company's inorganic growth and other news about it over the past year. The main objective at this stage is to identify the growth drivers and evaluate their stability, as well as the extent of impact they have on the business.

Based on all the data collected, the analysts determine the weighted forecasted figures of company's growth rates and proposed business marginality, which are used to calculate the company's multiplier-based estimated value. The said value enables setting the stock price target and stock value growth potential.

The expected timing of the idea implementation is set depending on the current market situation, volatility level and available forecasting horizon for industry and company development. The forecasting period is normally set between 3 and 12 months.