Our analysts cannot write ideas in all languages, so we show you their publications in English.
VICI Properties' property fund shares: upside of 25% over the next year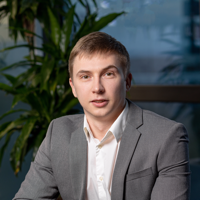 Max Manturov
Head of investment research regulated by CySec
16.02.2022
VICI Properties' property fund shares: upside of 25% over the next year
VICI Properties Inc. (VICI.US) is a real estate investment trust (REIT) that owns one of the world's largest portfolios of hotel, gaming and entertainment properties. Its properties are leased to major gaming and hospitality industry operators such as Caesars Entertainment, Penn National Gaming and Century Casinos.
Ticker:
VICI.US
Entry price: $28
Target price: $35
Growth potential: 25%
Dividend yield potential: 5.1%
Time horizon: 12 months
Risk: Moderate
A foundation with a sustainable business
VICI Properties is structured as a standard REIT whose income is generated from rent . However, this fund has several features that set it apart from other real estate funds:
VICI Properties invests in real estate for gambling establishments, which almost always maintain a high level of interest, which provides the fund with stable rental income. The gambling industry faced some difficulties during lockdown, but even so, VICI continued to receive income from tenants. It is worth noting that the situation has started to improve over the past year. In a recent idea on MGM Resorts, we already mentioned that the American Gaming Association (US Gaming Association) noted the following in its report - "987 US commercial casinos brought in over $44.15bn in the first 10 months of 2021, surpassing the previous record set in 2019 of $43.65bn".
The fund has a fairly diversified real estate portfolio consisting of 27 gambling establishments, with more than 46 million square feet of space and including some 17,800 hotel rooms and more than 200 restaurants, bars, nightclubs and betting shops. At the same time, VICI Properties leases its properties to industry-leading gambling operators including: Caesars, Century Casinos, Hard Rock International, JACK Entertainment and Penn National Gaming.
The Fund enters into long-term contracts on favourable terms. First of all, it is worth noting that VICI Properties leases its properties on a Triple Net Lease (NNN) basis, in other words, in addition to the rent, the tenant is also obliged to pay other costs (taxes, maintenance, insurance), which significantly reduces the operational risks of the fund. The weighted average term of the leases signed is 43.3 years, significantly higher than the values of the nearest competitors (Essential Properties - 13.9 years, Store Capital - 13.5 years). At the same time, 97% of all contracts have protection against inflation, which consists in the adjustment of rents in case of a sharp rise in CPI (Consumer Price Index). Currently, the annual inflation rate in the USA is 7.5%, which is a 40-year record. In the current environment, this point is crucial to maintain the real value of rent payments.
VICI Properties is therefore a solid real estate fund that not only maintains a low level of operational risk, but also protects assets from inflationary effects
Adding new properties to the portfolio
VICI Properties continues to expand its real estate pool. Last year, the fund announced two deals:
Acquisition of MGM Growth Properties for $17.2 billion. If the deal is successful, VICI Properties' portfolio will include 7 premium resorts in Las Vegas and 8 major regional properties. These include The Mirage, Mandalay Bay, MGM Grand, Luxor, Beau Rivage and MGM Springfield. The lease agreement will be for 25 years with MGM Resorts, with an initial rent of $1.01 billion, and the contract will also see annual rent increases of 2%, or a CPI of up to 3%. The deal is expected to close in the first half of this year.
The purchase of The Venetian Resort for $4bn in cash. As part of the deal, VICI will receive: The Venetian Resort Las Vegas, Sands Expo and Convention Center. The initial rental payments will be $250 million, a cap rate of 6.25%, which is high relative to the real estate market average. The rent increase mechanism is similar to that presented in the MGM Growth Properties deal. The transaction is expected to close during the first quarter of this year.
Through these transactions, VICI Properties will not only be able to expand its portfolio and further diversify its assets but also to significantly increase revenue and continue to increase its dividend payout.
Financial situation
It is worth noting that the fund is showing growth in key financial indicators. During the first 3 quarters of last year, the fund's revenues increased by 32% from $852.5m to $1126.4m. During the same period, Adj. EBITDA and AFFO (Adj. Funds from operations) also rose 23% and 31.5% respectively to $978m and $768m.
Currently, VICI has a moderate debt burden, with $4.75 billion in debt and $670 million in cash and equivalents. Net Debt/Adj. EBITDA is 3.1x and the Interest Coverage Ratio is 4.7x. The weighted average interest rate is barely above 4.1%. On top of that, the company has no loans maturing before 2024. In other words, the fund is well-positioned to meet its current obligations.
VICI has been steadily increasing its dividend payout, increasing it by 9.1% to $1.44 per share in 3Q21. The current dividend yield is 5.1%. The fund allocates 69.5% of its annual AFFO to dividends, with a target level of 75%. Thus, VICI will continue to increase its dividend allocation.
The fund trades at the following levels on the main multiples: EV/S - 14.8x, EV/EBITDA - 15.2x, EV/CFO - 23.3x, PE - 15.3x. In terms of PE and EV/CFO, VICI Properties is trading cheaply relative to average market levels.
Since the beginning of the year, several investment houses have set the following price targets: Citigroup - $32, Truist Financial - $35, Berenberg Bank - $35.
How to take advantage of the idea?
Buy VICI Properties shares at $28
Allocate no more than 2% of your portfolio to buying. You can use our analysts' recommendations to build a balanced portfolio.
Sell when the price reaches $35.
How to Buy VICI Properties?
If you don't have an investment account yet, open it now: this can be done online, in just 10 minutes. All you need to do is fill out a short form and verify your account.
After opening an account, you can buy shares in either of the following ways:
Freedom24 Web Platform: In the Web Terminal section, type VICI.US (VICI Properties ticker in the NYSE) in the search box, and select VICI Properties in the results. Open a secure session in the trading window on the right, select the number of shares you want to buy, and click Buy.
Freedom24 iPhone or Android App: Go to the Price screen and tab the search icon in the top right corner. In the search dialog that will show up, type VICI.US (VICI Properties ticker in the NYSE) and select VICI Properties in the search results. You will then see the stock in the market watch; tap it and go to the Order tab in the dialog that shows up. Specify the number of shares you want to buy and click Buy.

*Additional information is available upon request. Investment in securities and other financial instruments always involves risks of capital loss. The Client should make himself aware at his own accord, including to familiarize himself with Risk Disclosure Notice. Opinions and estimates constitute our judgment as of the date of this material and are subject to change without notice. Commissions, fees or other charges can diminish financial returns. Past performance is not indicative of future results. This material is not intended as an offer or solicitation for the purchase or sale of any financial instrument. The opinions and recommendations herein do not take into account individual client circumstances, objectives, or needs and do not constitute an investment advice service. The recipient of this report must make their own independent decisions regarding any securities or financial instruments mentioned herein. Information has been obtained from sources believed to be reliable by Freedom Finance Europe Ltd or its affiliates and/or subsidiaries (collectively Freedom Finance). Freedom Finance Europe Ltd. do not warrant its completeness or accuracy except with respect to any disclosures relative to the Freedom Finance Europe Ltd. and/or its affiliates and the analyst's involvement with the issuer that is the subject of the research. All pricing is indicative as of the close of market for the securities discussed, unless otherwise stated.
https://investors.viciproperties.com/

https://www.americangaming.org/

https://www.mgmgrowthproperties.com/events-and-presentations/default.aspx

Freedom Finance analysts perform a three-stage analysis. They select a promising industry based on the latest news, statistics and industry-specific metrics. They assess the supply and demand situation and its future development dynamics. Industry's investment attractiveness is mostly affected by the forecasted market growth rates; total addressable market, player concentration level and likeliness of a monopoly formation, as well as the level of regulation by various entities or associations.

The assessment is followed by the comparative analysis based on the selected sample. The sample comprises companies with a market capitalization of over USD 1 billion, but there is space for exceptions (when the suitable level of liquidity for company's securities is available on the stock exchange). The selected companies (peers) are being compared against each other based on multipliers (EV/S, EV/EBITDA, PE, P/FCF, P/B), revenue growth rates, marginality and profitability (operating income margin, net income margin, ROE, ROA), and business performance.

Having completed the comparative analysis, the analysts carry out a more in-depth research of the news about the selected company. They review company's development policy, information about its current and potential mergers and acquisitions (M&A activity), and assess the efficiency of company's inorganic growth and other news about it over the past year. The main objective at this stage is to identify the growth drivers and evaluate their stability, as well as the extent of impact they have on the business.

Based on all the data collected, the analysts determine the weighted forecasted figures of company's growth rates and proposed business marginality, which are used to calculate the company's multiplier-based estimated value. The said value enables setting the stock price target and stock value growth potential.

The expected timing of the idea implementation is set depending on the current market situation, volatility level and available forecasting horizon for industry and company development. The forecasting period is normally set between 3 and 12 months.