PayPal Stock: 16.60% Yield Potential with Active Development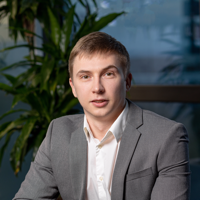 Max Manturov
Head of investment research regulated by CySec
PayPal Stock: 16.60% Yield Potential with Active Development
Company Name: PayPal Holdings Inc
Ticker: PYPL.US
Entry Price: $270
Target Price: $315
Projected Yield: 16.60%
Time Line: 3 to 6 months
Risk: High

About PayPal
PayPal Inc. is a tech company focusing on its proprietary e-payment system, which is one of the world's leading ones. With PayPal, people can buy goods, pay bills, as well as send and receive money transfers. Currently, PayPal has 360M active accounts, catering to over 325M active users from 200 countries.
What's the Idea?
Capitalize on a stock that may rise with active ecosystem development, good financial performance, and China market share expansion.
Why Trade PayPal?
Reason 1: Active Ecosystem Development
The pandemic lead to lockdown, and this boosted e-payments drastically. PayPal performed very well thanks to this, having actively increased its customer base.
During 2020, the company also developed its own services and expanded its ecosystem in order to make its competitive edge even stronger, including after the lockdown is lifted.
So, here's some of what's new in PayPal:
Venmo mobile app: During 2020, Paypal expanded Venmo's features and added new services, which boosted the app's popularity. As a result, Venmo already accounts for 18% of total PayPal payments, which is an impressive number. According to PayPal's outlook, Venmo may generate earnings worth $900M in 2021 (this is compared to $450M in 2019).
Contactless payments via QR codes: Last year, PayPal introduced its QR code based payment system in some stores. This may make it easier to pay for goods and help PayPal get its own partner retail store network. Implementing this service, however, will take a few years. Currently, PayPal is already working this out with CVS Health and Nike.
Crypto transactions: PayPal users can now buy, store, and sell bitcoins and other cryptocurrencies with PayPal and Venmo e-wallets. According to what PayPal representative say, their customers will be able to pay with crypto at 26M of merchant points starting early 2021. Crypto transaction may attract even more people to PayPal, while also delivering some extra in terms of transaction fees earnings. In addition, this might allow PayPal to get a competitive edge over Square, another payment system with a large market share.
Last year, PayPal successfully closed its Honey Science, which is estimated at $4B.; this now allows it to integrate Honey Science services, such as tracking promotions and getting discount coupons, into its ecosystem. In 2019, Honey Science partner network included 30,000 companies, among which were online stores and delivery services, while its audience base amounted to 17M people. Now, with Honey Science services and audience, PayPal will be able to get more millennials and Gen Z as customers.
The more services and features get integrated into PayPal, the better for the company, and its earnings, too.
Reason 2: Expanding the Market Share in China
In late December 2020, PayPal acquired GoPay, a Chinese based company, in full (before, it had 70% of its shares). While having acquired just a relatively small market player, PayPal will now be able to compete with the payment giants in China, such as Alipay (Ant Group, affiliated with Alibaba) and WeChat Pay (Tencent Holdings Ltd).
This is because the acquisition occurred right when the government started its antitrust campaign against Alibaba Group Holding Ltd. and other online service companies, so this may really help PayPal significantly increase its market share in the country.
Reason 3: Core Risks
PayPal may terminate its partnership with eBay, a large ecommerce platform, which may completely switch to its own payment solution. This is one of the greatest risks the company may incur,
as EBay currently accounts for around 7% of all PayPal payments, and this is critical. This may well slow down PayPal's tempo in gaining earnings in the short term.
Reason 4: Financial Performance
2020 was quite a successful year for PayPal Inc. In late Q3 2020, the number of active accounts reached 361M, while the total of payments amounted to $247B in the same Q3, which is an increase of 38% compared to the same period in 2019. Over the first three quarters, the earnings rose by 19% to reach $15.30B, while the profit went up by 35% to $2.60B.
The company's balance sheet is quite alright, with $8.90B of debt against $14.10B in cash and a positive cash flow. The adjusted FCF for Q1 to Q3 amounted to $3.97B, an increase of 43%.
Currently, most PayPal's ratios are high: EV/EBITDA is at 38.80х, while Forward P/E is 53х. This means that there's a risk of being overbought. Large investment banks and analytic companies, however, upgraded their outlooks for PayPal price: Morgan Stanley came with $297, Bank of America, with $282, while Mizuho forecast was at $350, and KeyCorp, $300.
How to Use the Idea?
Buy PayPal shares at $270.

Allocate no more than 2% of your portfolio amount. To build a balanced portfolio, you can use recommendations by our analysts.
Sell the stock when the price is at $315 per share.

How to Buy PayPal Shares?
If you don't have an investment account yet, open it now: this can be done online, in just 10 minutes. All you need to do is fill out a short form and verify your account.
After opening an account, you can buy shares in either of the following ways:
Freedom24 Online Store: This is the easiest way to do it. Add the number of shares you want to buy to the cart and pay by credit card. Once the transaction is processed, the purchased shares will appear on your investment account.
Freedom24 Web Platform: : In the Web Terminal section, type PYPL.US (PayPal ticker in the NASDAQ) in the search box, and select PAYPAL HLDGS INC in the results. Open a secure session in the trading window on the right, select the number of shares you want to buy, and click Buy.
Freedom24 iPhone or Android App: Go to the Price screen and tab the search icon in the top right corner. In the search dialog that will show up, type PYPL.US (PayPal ticker in the NASDAQ) and select PAYPAL HLDGS INC in the search results. You will then see the stock in the market watch; tap it and go to the Order tab in the dialog that shows up. Specify the number of shares you want to buy and click Buy.
Buy PayPal stocks to capitalize on e-payment development trends!

*Additional information is available upon request. Investment in securities and other financial instruments always involves risks of capital loss. The Client should make himself aware at his own accord, including to familiarize himself with Risk Disclosure Notice. Opinions and estimates constitute our judgment as of the date of this material and are subject to change without notice. Commissions, fees or other charges can diminish financial returns. Past performance is not indicative of future results. This material is not intended as an offer or solicitation for the purchase or sale of any financial instrument. The opinions and recommendations herein do not take into account individual client circumstances, objectives, or needs and do not constitute an investment advice service. The recipient of this report must make their own independent decisions regarding any securities or financial instruments mentioned herein. Information has been obtained from sources believed to be reliable by Freedom Finance Cyprus Ltd or its affiliates and/or subsidiaries (collectively Freedom Finance). Freedom Finance do not warrant its completeness or accuracy except with respect to any disclosures relative to the Freedom Finance and/or its affiliates and the analyst's involvement with the issuer that is the subject of the research. All pricing is indicative as of the close of market for the securities discussed, unless otherwise stated.
Recommendation Evaluation Methodology

Freedom Finance analysts perform a three-stage analysis. They select a promising industry based on the latest news, statistics and industry-specific metrics. They assess the supply and demand situation and its future development dynamics. Industry's investment attractiveness is mostly affected by the forecasted market growth rates; total addressable market, player concentration level and likeliness of a monopoly formation, as well as the level of regulation by various entities or associations.

The assessment is followed by the comparative analysis based on the selected sample. The sample comprises companies with a market capitalization of over USD 1 billion, but there is space for exceptions (when the suitable level of liquidity for company's securities is available on the stock exchange). The selected companies (peers) are being compared against each other based on multipliers (EV/S, EV/EBITDA, PE, P/FCF, P/B), revenue growth rates, marginality and profitability (operating income margin, net income margin, ROE, ROA), and business performance.

Having completed the comparative analysis, the analysts carry out a more in-depth research of the news about the selected company. They review company's development policy, information about its current and potential mergers and acquisitions (M&A activity), and assess the efficiency of company's inorganic growth and other news about it over the past year. The main objective at this stage is to identify the growth drivers and evaluate their stability, as well as the extent of impact they have on the business.

Based on all the data collected, the analysts determine the weighted forecasted figures of company's growth rates and proposed business marginality, which are used to calculate the company's multiplier-based estimated value. The said value enables setting the stock price target and stock value growth potential.

The expected timing of the idea implementation is set depending on the current market situation, volatility level and available forecasting horizon for industry and company development. The forecasting period is normally set between 3 and 12 months.