Promising companies in the cyber security niche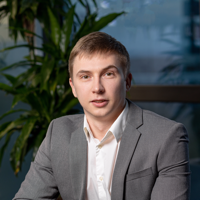 Max Manturov
Head of investment research regulated by CySec
11.11.2021
Promising companies in the cyber security niche
The cyber security industry continues to gain momentum. Companies in this industry are showing positive momentum. In July, our analysts already presented an investment idea for ETFs that include cybersecurity stocks. Since then, these ETFs have performed as follows:

First Trust NASDAQ Cybersecurity ETF (CIBR.US) +15.8%;
Global X Cybersecurity ETF (BUG.US) +16.7%;
iShares Cybersecurity & Tech ETF (IHAK.US) +11.1%
We estimate that these ETFs will continue to show an upward trend in the near future, so the investment remains relevant. In addition, the analysts present two promising companies from the cybersecurity sector.

CrowdStrike: potential growth of 17.9% on the back of a strengthened position in its niche and a number of successful deals
CrowdStrike is a cloud-based provider of workload protection, endpoint protection and threat analysis software. The company's flagship platform is Falcon, which consists of 21 cloud-based modules. It is the best platform for endpoint security. The Falcon solution uses artificial intelligence to track potential threats and provides 24/7 access to advanced analytics. Users of the platform are able to customise their network to best counter future cyber threats.
Ticker:
CRWD.US
Current price: $285
Target price: $330
Potential: 17.9%
Timeline: 3-6 months
Risk: high
Position size: 2%
Investment attractiveness factors
Increase in cloud solutions and interest in security issues at the US government level
Cybercrime and ransomware attacks are expected to grow significantly as global connectivity expands and more interactions occur in the cloud. CrowdStrike provides advanced solutions in all priority cyber security development areas:
endpoint detection and response (EDR)
incident management
threat intelligence
cloud prioritisation
The current situation and the Biden administration's increased focus on cyber security in the US is a long-term cofactor for CrowdStrike's growth, making the company one of the main beneficiaries of high market demand.
Financial indicators
Thanks to the increased demand for cybersecurity products and its strong market position, CrowdStrike has successfully implemented its growth strategy, demonstrating strong growth through active customer acquisition and cross-selling. The company is gaining market share faster than its competitors, with a revenue growth of more than 80% over the past year.
The company's latest quarterly results also showed annual recurring revenue growth of 70% and subscriber numbers up 81% YoY. Cross-selling shows that the number of subscribers who installed more than four, five and six modules rose to 66%, 53% and 29% respectively.
Benefits of the business model
CrowdStrike continues to scale thanks to its efficient subscription-based software licensing (SaaS) business model: gross margins are already approaching the 77-82% target and should remain in this range as this level is typical of such a business model. The company also has the potential to increase its operating margin to a target of 20-22%.
Business expansion and successful deals
CrowdStrike is actively expanding its market opportunities through both organic investment and M&A activity. The company acquired Humio in March 2021. Its flagship product is a cloud-based event log analysis platform. This acquisition will improve efficiency by leveraging the vast amount of data that CrowdStrike has, as well as strengthening its offerings within advanced threat detection and response. CrowdStrike has also made several new strategic partner integrations with Zscaler, Rapid7, Google Cloud, ExtraHop and Siemplify.
Forecast
Due to its high growth rate, the company now trades at a significant premium to its peers - the current P/S ratio is at 50.5x, compared to the industry average of 12.1x. In a volatile market, the company is vulnerable to correction risks. At the same time, the company looks attractive in the long term due to its strong industry position and opportunities for further growth.
How to take advantage of the idea?
Buy shares at the price of $285.
Allocate no more than 2% of your portfolio to this. You can use our analysts' recommendations to create a balanced portfolio.
Sell when the price reaches $330.

Tenable Holdings, Inc.: potential growth of 25% thanks to market leadership in cybersecurity and interest from federal agencies.
The company has developed an entire line of enterprise software products. Tenable customers can use them to diagnose cyber vulnerabilities, prioritise cyber threats and formulate a remediation plan. Tenable is a world leader in information security, especially in risk management (Vulnerability Management) and industrial IT infrastructure security (IoT, SCADA). The company's Vulnerability Control and Risk Management platform is recognised as the absolute industry leader according to a 2019 report by analyst agency Forrester.
Ticker:
TENB.US
Current price: $55.5
Target price: $70
Potential: 25%
Timeline: 3-6 months
Risk: High
Position size: 2%
Investment attractiveness factors
Continued expansion of own market share in cyber security services
The increase in the frequency of cyberattacks is creating increased interest in Tenable's products from enterprise customers. The company's solutions cover a huge percentage of vulnerabilities (Common Vulnerabilities and Exposures); Tenable outperforms most of its competitors on this measure. Thanks to this advantage, the holding company has established itself as the biggest player in Vulnerability Management, capturing almost a third of the cybersecurity market (28%).
Tenable continues to expand its own customer base, which has already exceeded 30,000 clients, and is actively gaining the trust of major players. So far, Tenable has attracted 30% of the Global 2000 and 50% of the Fortune 500, which is an impressive result. In addition to corporate clients, the company's products are used by US government agencies.
Under current conditions, Tenable continues to grow its client base, with an average bill in excess of $100k, reaching 995 clients in Q3 2021, up 29% year on year. This trend will continue to support the company's revenue growth rate and stimulate capitalisation growth.
Business development through M&A deals
Tenable has acquired two companies since the beginning of the year. One of them was the leader in Active Directory security, Alsid SAS. The deal was worth $98 million. According to Frost & Sullivan, 90% of Fortune 1000 organis ations use Active Directory as their primary authentication and authoris ation method. The popularity of this directory service has provoked an increase in the number of attacks on Active Directory
Alsid's development of Active Directory security perfectly complements Tenable's current products and opens up new opportunities to prevent cyberattacks.
Tenable closed its second deal in early October 2021. The target of the acquisition was Accurics, a provider of infrastructure monitoring tools for current threats. The size of the deal was $160 million. Tenable's management expects that the combined solutions of the two companies will provide a comprehensive approach to assessing and managing development risks. In addition, the holding company is committed to a strategy of preventing problems in cloud environments before they become a serious risk factor for customers' businesses. Accurics solutions will be used in conjunction with Tenable tools to maximise cloud container protection and secure website scanning. Against the backdrop of companies increasingly moving to cloud solutions, the deal could bring significant benefits to Tenable in the long run.
Tenable is pursuing a prudent strategy by acquiring smaller companies with in-demand developments at a reasonable price. Further adoption of the acquired solutions will not only increase the competitiveness of the company's products, but also attract new customers.
Financial situation
Tenable continues to show positive momentum. For the three quarters of 2021, its revenues reached $392 million, up 21.7%. The operating loss was $27 million compared to $35.7 million one year previously. The share of operating loss to revenue decreased from 13.5% to 9.1% mainly due to COGS (Cost of goods sold) optimisation. The net loss also fell from $40.8 million to $35.6 million.
Tenable is in a strong financial position, with cash on hand of $651 million and a debt of $365 million. Since the beginning of the year it has seen an increase in FCF, which reached $71 million, compared to $27.2 million.
Tenable currently trades at the following multiples: EV/S - 11.3x, P/FCF - 68.2x. Relative to the industry averages, the company is valued below the market.
In October, several investment companies and banks presented their price targets for Tenable shares:
Piper Sandler - $65, Barclays - $59
Needham & Company LLC - $62
Piper Sandler - $65
Wedbush - $70
Stifel Nicolaus - $70
Wells Fargo & Company - $70
How to take advantage of the idea?
Buy shares at $55.50.
Allocate no more than 2% of your portfolio to this. You can use our analysts' recommendations to create a balanced portfolio.
Sell when the price reaches $70.
How to Buy Shares?

If you don't have an investment account yet, open it now: this can be done online, in just 10 minutes. All you need to do is fill out a short form and verify your account.
Once your account has been opened, you can buy shares in any of the following ways, whichever is more convenient to you:
1. Freedom24 Web Platform: In the Web Terminal section, type the company ticker in the search box and select the company in question from the results. Open a secure session in the trading window on the right, select the number of shares you want to buy, and click Buy.
2. Freedom24 iPhone App and Android: Go to the Price screen and tab the search icon in the top right corner. In the search dialog that shows up, type the company ticker and select the company in question in the search results. You will then see the stock in the market watch; tap it and go to the Order tab in the dialog that shows up. Specify the number of shares you want to buy and click Buy.

*Additional information is available upon request. Investment in securities and other financial instruments always involves risks of capital loss. The Client should make himself aware at his own accord, including to familiarize himself with Risk Disclosure Notice. Opinions and estimates constitute our judgment as of the date of this material and are subject to change without notice. Commissions, fees or other charges can diminish financial returns. Past performance is not indicative of future results. This material is not intended as an offer or solicitation for the purchase or sale of any financial instrument. The opinions and recommendations herein do not take into account individual client circumstances, objectives, or needs and do not constitute an investment advice service. The recipient of this report must make their own independent decisions regarding any securities or financial instruments mentioned herein. Information has been obtained from sources believed to be reliable by Freedom Finance Europe Ltd. or its affiliates and/or subsidiaries (collectively Freedom Finance). Freedom Finance Europe Ltd. do not warrant its completeness or accuracy except with respect to any disclosures relative to the Freedom Finance Europe Ltd. and/or its affiliates and the analyst's involvement with the issuer that is the subject of the research. All pricing is indicative as of the close of market for the securities discussed, unless otherwise stated.
Freedom Finance analysts perform a three-stage analysis. They select a promising industry based on the latest news, statistics and industry-specific metrics. They assess the supply and demand situation and its future development dynamics. Industry's investment attractiveness is mostly affected by the forecasted market growth rates; total addressable market, player concentration level and likeliness of a monopoly formation, as well as the level of regulation by various entities or associations.

The assessment is followed by the comparative analysis based on the selected sample. The sample comprises companies with a market capitalization of over USD 1 billion, but there is space for exceptions (when the suitable level of liquidity for company's securities is available on the stock exchange). The selected companies (peers) are being compared against each other based on multipliers (EV/S, EV/EBITDA, PE, P/FCF, P/B), revenue growth rates, marginality and profitability (operating income margin, net income margin, ROE, ROA), and business performance.

Having completed the comparative analysis, the analysts carry out a more in-depth research of the news about the selected company. They review company's development policy, information about its current and potential mergers and acquisitions (M&A activity), and assess the efficiency of company's inorganic growth and other news about it over the past year. The main objective at this stage is to identify the growth drivers and evaluate their stability, as well as the extent of impact they have on the business.

Based on all the data collected, the analysts determine the weighted forecasted figures of company's growth rates and proposed business marginality, which are used to calculate the company's multiplier-based estimated value. The said value enables setting the stock price target and stock value growth potential.

The expected timing of the idea implementation is set depending on the current market situation, volatility level and available forecasting horizon for industry and company development. The forecasting period is normally set between 3 and 12 months.