Our analysts cannot write ideas in all languages, so we show you their publications in English.
Take a note of the three stocks with high dividend yields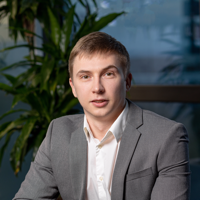 Max Manturov
Head of investment research regulated by CySec
19.11.2021
Take a note of the three stocks with high dividend yields
Icahn Enterprises
The Company
Icahn Enterprises L.P. (IEP), a diversified holding company, invests through its own subsidiaries in various industries, including automotive parts, energy, metals, real estate, pharmaceuticals, etc. The majority shareholding is held by the legendary investor Carl Icahn.
Why do we like Icahn Enterprises?
Reason 1: Diversified portfolio
Icahn Enterprises L.P.'s strategy is quite distinct. The holding company acquires undervalued companies and then improves their internal operating processes, which increases the business value. After achieving its goals, Icahn Enterprises sells the asset at a better price. Diversification is the holding company's primary way of reducing its own risks. The company invests through different P.E. funds (Private Equity Funds) and directly purchases controlling stakes in companies. The assets in the holding company's portfolio loosely correlate to each other, thus creating a successful balance in different economic conditions and reducing the negative effect during significant shocks.
Icahn Enterprises' largest assets:
● Icahn Automotive Group ($2.54 billion);
● Cheniere Energy ($1.58 billion);
● Occidental Petroleum ($1.33 billion);
● CVR Energy ($1.19 billion);
● Newell Brands ($0.97 billion);
● Bausch Health ($0.95 billion), etc.
A significant share of Icahn Enterprises' assets is allocated to oil and gas companies (Cheniere Energy, Occidental Petroleum, CVR Energy). This is a favourable position for the IEP amid the current energy crisis and high energy resources prices.
Reason 2: Improved operating performance in most business segments
Most of the business lines in Icahn Enterprises' portfolio were negatively impacted by the COVID-19 pandemic. However, many companies of IEP have managed to recover and demonstrate growth in sales and increased margins. Energy, automotive and metallurgy showed the most positive dynamics. Since the beginning of 2021, the total revenue of all the companies in the holding company's portfolio reached $9.02 bn against $3.37 bn YoY. The adjusted EBITDA profit attributable to Icahn Enterprises was $715 million; in 2020, the loss for this parameter was $1.16 billion. In addition, Icahn Enterprises' total net loss decreased from $1.8 billion to $122 million.
Individual companies and P.E. funds, in which IEP invests, showed positive dynamics: since the beginning of the year, their cumulative return amounted to 8.8%.
Since the beginning of 2021, the NAV (Net Asset Value) of the holding company's portfolio has increased from $3.56 billion to $5.37 billion (+50.84%), partly due to the changes in the fair value of the real estate owned by the automotive segment.
Despite the higher level of the debt burden, the holding company maintains a stable financial position. Its consolidated debt stands at $7.7 billion, with cash and cash equivalents amounting to $3.69 billion. Moreover, Icahn Enterprises has no liquidity problems: in Q2 and Q3, the FCF (free cash flow) was $76 million and $349 million, respectively.
Considering these factors, there is a high probability that IEP's dividend payments will remain at the current level. This means that the dividend yield to shareholders will be in double digits.
How to take advantage of the idea?
Buy the stock at $51.
Allocate no more than 2% of your portfolio for purchase. To compile a balanced portfolio, you can use the recommendations of our analysts.
Sell when the price reaches $60.
Park Hotels & Resorts
The Company
Park Hotels & Resorts Inc. is a residential real estate investment trust (REIT). Its impressive portfolio consists of 48 hotels and resorts with more than 27.9 thousand rooms; they are located in the United States and other countries. The fund includes many brands: DoubleTree by Hilton, Embassy Suites by Hilton, Hampton by Hilton, Hilton Hotels & Resorts, Curio Collection by Hilton, JW Marriott and others.
Why do we like Park Hotels?
Reason 1: Improvement of the operational metrics
Last year, the hotel business felt the most negative impact from the introduction of the lockdown but starting from 2021, the situation began to improve gradually. This was facilitated by the resumption of hotel operations and the recovery of interest in domestic and foreign tourism. At the end of Q3 2021, only 2 out of 48 Park Hotels & Resorts hotels had suspended their operations. They are expected to reopen their doors in Q4 2021 and Q1 2022.
The recovery in demand for hotel services can be traced by following the operational metrics:
1. RevPAR (Revenue Per Available Room) increased by 53.7% year-on-year. As a result, in the first nine months of 2021, the average RevPAR amounted to $75.32 against $48.99 in 2020. In addition, this year, the indicator shows a positive trend from quarter to quarter: while in Q1 2021, RevPAR was $41.32, by Q3, it reached $105.48. Nevertheless, there remains a significant difference from the pre-crisis achievements: in 2019, the indicator was at $181.8.
2. There is a similar situation with the occupancy rate (Occupancy). The average occupancy rate increased from 20.5% in 2020 to 40.1% in the nine months of 2021, with the Occupancy reaching 51.3% in Q3 2021. However, there remains a significant difference with the 2019 average occupancy rate: pre-crisis Occupancy was 82%.
3. ADR (Average Daily Rate), which reflects average revenue per room, was the fastest to recover. Among the growth drivers, we would like to note an increase in demand for hotel services and the emergence of inflation. As a result, the indicator grew by 32% to $205.56 from the 1st to the 3rd quarter of 2021. By comparison, the annual average ADR in 2019 was $221.83.
Park Hotels & Resorts was able to go through the most challenging phase of the crisis without too much trouble and to adjust its operations to the prevailing conditions. Moreover, the positive dynamics of the key indicators creates certain confidence that within a few years, the fund will fully return to the pre-crisis levels of income and business margins.
Reason 2: Financial condition
Since the beginning of 2021, Park Hotels & Resorts reported revenue of $859 million for the three quarters compared to $484 million a year earlier. Adjusted EBITDA was at $94 million for the same period, and the net loss was $387 million. In 2020, the losses on these indicators were $93 million and $1.22 billion, respectively. In other words, Park Hotels & Resorts was able to improve its financial results significantly. In particular, we note the achievement of a positive Adjusted EBITDA margin of 10.9% since the beginning of the year. However, there remains a significant difference from the pre-crisis level of 29.4%.
Park Hotels & Resorts is also gradually improving its operating cash flow situation. Year-to-date, Adjusted FFO outflows were $146 million, but Q3 2021 inflows were $5 million. In comparison, 2020 outflows for the same period were $264 million.
As part of business optimization during the year, the fund got rid of some unprofitable assets, selling five facilities (total number of rooms - 1.04 thousand). The total size of the transaction amounted to $476.6 million. Thanks to this, Park Hotels & Resorts has reduced its debt burden. At the end of the last year, the net debt was $4.4 billion, and the Net Debt/Adjusted EBITDA was at the level of 5.24x. By the third quarter of 2021, the figures were down to $4.09bn and 4.88x, respectively.
Positive facts also include:
● more than half of the loans are repaid after 2025;
● the company currently has $772 million of cash and cash equivalents on its balance sheet.
Thus, Park Hotels & Resorts can be an excellent asset due to its improving operational and financial performance: the issuer generates high dividend income and demonstrates growth in shareholder value.
How to take advantage of the idea?
Buy the stock at $19.
Allocate no more than 2% of your portfolio for purchase. To compile a balanced portfolio, you can use the recommendations of our analysts.
Sell when the price reaches $25.
Enbridge Inc.
The Company
The asset portfolio of the Canadian company Enbridge Inc. consists of large infrastructure projects in the energy sector. The main among them: a network of pipelines for crude oil, oil products and natural gas, projects related to renewable energy, etc.
The company's operations are divided into five segments:
● transit of oil and petroleum products through the pipeline network;
● gas transit;
● distribution of gas to consumers;
● green energy generation;
● distribution of energy to consumers.
Why do we like Enbridge?
In April 2021, our team already presented an idea on Enbridge stock. The recommendation was successful: over six months, the asset price changed by 11.2%, plus a dividend of $2.02 per share was paid, which brought an additional 5.5% yield. As a result, the total return on the investment was 16.7% for six months.
In the current environment, our analyst team continues to look positively at Enbridge. Here are the main reasons why the company will maintain stable dividend payments, and its capitalization will show moderate growth in the medium term.
Reason 1: Stable business
Enbridge's main advantage is sustainability, which has enabled the company to overcome the recent economic crisis. Two factors support this stability:
● Existence of a monopoly. Transportation of oil and gas resources will remain relevant, especially in the context of rising prices. The primary beneficiaries of the current situation are companies that own pipeline networks. Enbridge is the most competitive in its sector as it offers low transit costs and at the same time has one of the most extensive networks.
Bureaucracy in Canada makes it difficult to obtain permits for new pipelines and creates significant barriers to entry for new entrants. Thanks to this, Enbridge is not in danger of lower margins due to increased competition.
In addition, demand for Enbridge's petroleum product transit services remains high due to the location of the company's pipeline: it connects oil production complexes with the refineries built along the Gulf of Mexico. These refineries are best suited for heavy and cheap crude oil while switching to other grades of "black gold" would not be effective for them.
● Long-term contracts with fixed tariffs. Enbridge's natural gas and oil transportation operations are heavily regulated by the government, with long-term contracts and, therefore, relatively stable cash flows. Tariffs for services are coordinated with the Canadian Association of Petroleum Producers and controlled by the local regulator (Canada Energy Regulator). It is worth noting that Take-or-Pay contracts support the distribution network and Mainline pipeline: under such contracts, the customer is fined if it does not use the contracted capacity. Thanks to this approach, only 2% of Enbridge's cash flow is directly dependent on commodity prices.
Thus, Enbridge can generate stable projected cash flow, which the company plans to distribute as dividends to shareholders and invest in new projects.
Reason 2: Development of new projects and investment in renewable energy
Enbridge is busy expanding and modernizing its assets. This includes upgrading utilities and gas and oil pipelines, as well as building additional renewable energy projects. The company plans to allocate CAD 17 billion to this program through 2023. By the end of 2021, Enbridge hopes to realize CAD 10 billion.
According to management estimates, Enbridge will have CAD 5-6bn ($3.9-4.7bn) of available cash flow after the dividend, which will be used to further increase shareholder value. Of this amount, about CAD 3-4bn ($2.4-3.1bn) will be used to fund the green program.
Additionally, Enbridge plans to expand its portfolio of renewable energy generation projects. The company is building offshore wind farms in Europe: Saint Nazaire (2022), Fécamp (2023) and Calvados (2024); it is implementing four new solar farms with a total investment of 0.5 billion CAD. In addition, however, the company plans to develop another 10-15 solar power plants. Implementing these projects will further contribute to a gradual shift towards green energy and diversification of the asset portfolio.
Thanks to its long-term investment program, the company plans to increase EBITDA by more than CAD 2 billion by 2023, which will support further growth in dividend pay-out and company value.
Reason 3: Financial condition
Since the beginning of 2021, Enbridge's revenue has grown by 18.8% to CAD 34.5 billion. At the same time, Adj EBITDA was at CAD 10.3 billion, up 2.4%. As a result, Adj Earnings increased significantly to CAD 4.35 billion compared to CAD 1.52 billion a year earlier. The DCF per share amounted to 3.73 CAD. As a result, the management expects Adj EBITDA in the range of CAD 13.9-14.3 bn and DCF per share in the range of CAD 4.7-5 this year.
Enbridge remains heavily leveraged, with CAD70.9bn in debt and CAD451m in cash on the balance sheet. The current Debt/EBITDA level is 4.9x and is maintained within the target range of 4.5x - 5.0x. Thus, according to management, this leverage is comfortable for Enbridge. In addition, the company has an investment-grade rating of BBB+.
In addition to the dividend pay-out increase, a CAD 2bn share buyback is planned, which will also boost the value of the asset. Currently, Enbridge shares look undervalued by multiples, especially by P/FCF: EV/S - 2.4x, EV/EBITDA - 15.1x, P.E. - 17.8x.
In November, several investment firms raised their valuations on Enbridge stock:
● UBS Group - 54 CAD;
● National Bankshares - 54 CAD;
● Royal Bank of Canada - 54 CAD;
● Tudor Pickering - 54 CAD;
● T.D. Securities - 57 CAD.
How to take advantage of the idea?
Buy the stock at $39.50.
Allocate no more than 2% of your portfolio for purchase. To compile a balanced portfolio, you can use the recommendations of our analysts.
Sell when the price reaches $50.
How to Buy Shares

If you don't have an investment account yet, open it now: this can be done online, in just 10 minutes. All you need to do is fill out a short form and verify your account.
Once your account has been opened, you can buy shares in any of the following ways, whichever is more convenient to you:
1. Freedom24 Web Platform: In the Web Terminal section, type the company ticker in the search box and select the company in question from the results. Open a secure session in the trading window on the right, select the number of shares you want to buy, and click Buy.
2. Freedom24 iPhone App and Android: Go to the Price screen and tab the search icon in the top right corner. In the search dialog that shows up, type the company ticker and select the company in question in the search results. You will then see the stock in the market watch; tap it and go to the Order tab in the dialog that shows up. Specify the number of shares you want to buy and click Buy.

*Additional information is available upon request. Investment in securities and other financial instruments always involves risks of capital loss. The Client should make himself aware at his own accord, including to familiarize himself with Risk Disclosure Notice. Opinions and estimates constitute our judgment as of the date of this material and are subject to change without notice. Commissions, fees or other charges can diminish financial returns. Past performance is not indicative of future results. This material is not intended as an offer or solicitation for the purchase or sale of any financial instrument. The opinions and recommendations herein do not take into account individual client circumstances, objectives, or needs and do not constitute an investment advice service. The recipient of this report must make their own independent decisions regarding any securities or financial instruments mentioned herein. Information has been obtained from sources believed to be reliable by Freedom Finance Europe Ltd. or its affiliates and/or subsidiaries (collectively Freedom Finance Europe). Freedom Finance Europe Ltd. do not warrant its completeness or accuracy except with respect to any disclosures relative to the Freedom Finance Europe Ltd. and/or its affiliates and the analyst's involvement with the issuer that is the subject of the research. All pricing is indicative as of the close of market for the securities discussed, unless otherwise stated.
Freedom Finance analysts perform a three-stage analysis. They select a promising industry based on the latest news, statistics and industry-specific metrics. They assess the supply and demand situation and its future development dynamics. Industry's investment attractiveness is mostly affected by the forecasted market growth rates; total addressable market, player concentration level and likeliness of a monopoly formation, as well as the level of regulation by various entities or associations.

The assessment is followed by the comparative analysis based on the selected sample. The sample comprises companies with a market capitalization of over USD 1 billion, but there is space for exceptions (when the suitable level of liquidity for company's securities is available on the stock exchange). The selected companies (peers) are being compared against each other based on multipliers (EV/S, EV/EBITDA, PE, P/FCF, P/B), revenue growth rates, marginality and profitability (operating income margin, net income margin, ROE, ROA), and business performance.

Having completed the comparative analysis, the analysts carry out a more in-depth research of the news about the selected company. They review company's development policy, information about its current and potential mergers and acquisitions (M&A activity), and assess the efficiency of company's inorganic growth and other news about it over the past year. The main objective at this stage is to identify the growth drivers and evaluate their stability, as well as the extent of impact they have on the business.

Based on all the data collected, the analysts determine the weighted forecasted figures of company's growth rates and proposed business marginality, which are used to calculate the company's multiplier-based estimated value. The said value enables setting the stock price target and stock value growth potential.

The expected timing of the idea implementation is set depending on the current market situation, volatility level and available forecasting horizon for industry and company development. The forecasting period is normally set between 3 and 12 months.