Unity Technologies: 32% growth potential thanks to development of metaverse solutions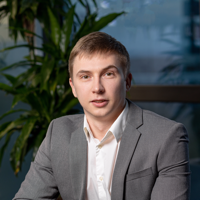 Max Manturov
Head of investment research regulated by CySec
10.12.2021
Unity Technologies: 32% growth potential thanks to development of metaverse solutions
Recently, the direction related to the creation and development of metaverse has been gaining popularity. A metaverse is a virtual space where people can interact with each other and with digital objects via their avatars. Virtual reality technologies are actively used here. The interaction options depend on what is available to the user - it can be the usual personal computers, as well as virtual and augmented reality glasses or helmets.
Of the main drivers that have contributed to the growth in popularity of this area, we would like to mention the following:
COVID-19 triggered a lockdown in most countries of the world, forcing people to communicate online for both work and personal matters.
The growing popularity of NFT-tokens (non-fungible token, "unique digital object"). This phenomenon makes it possible to purchase and sell virtual objects: pictures, GIFs, audio and video content, game attributes, etc. Thanks to this, virtual galleries and full-fledged in-game markets can now be set up in metavillages. Increased interest in the NFT-tokens market draws additional attention to the direction of meta-villages.
Facebook's recent rebranding to Meta Platforms and the company's shift in priorities towards developing innovative communication methods using VR/AR technology.
Katie Wood, founder of ARK Invest, recently told CNBC (Consumer News and Business Channel, an American cable and satellite business news channel) that the meta-universe market could be worth several trillion dollars. Investment firm Morgan Stanley cites a more specific estimate of $8 trillion, while venture capitalist Matthew Ball, CEO of Epyllion, believes that the metaworld market could reach $30 trillion over the next 15 years.
Among the beneficiaries of this development are Nvidia and Meta Platforms, which we recommended in our 2022 dollar portfolio. In addition to them, Unity and Roblox could be the main beneficiaries. In this investment, we will talk more about Unity Technologies.
Active business development
Ticker:
U.US
Entry Price: $140
Target price: $185
Potential: 32.1%
Timeline: 6 months
Risk: High
Position size: 2%
The company
Unity Technologies is engaged in the development of software for creating video games. The company is known for its game engine of the same name, which is affordable, flexible and supported by almost all modern platforms - Unity (its main competitor - Unreal by Epic Games). The software has established itself as an industry leader:
Over 71% of the top 1000 mobile games were created on the Unity platform
94 of the top 100 game development studios use Unity to create games
Currently, the company has two business lines: Create Solutions and Operate Solutions. Create Solutions allows creators to develop, edit and run 2D and 3D environments in real time on different hardware platforms (consoles, smartphones). Monetisation of this product is realised through a monthly subscription.
Operate Solutions helps game developers monetise their development through advertising and create interactive experiences for players to increase engagement and returns. Sales in this solution are tied to revenue sharing and pay-per-use, allowing Unity to grow with its customer base.
Operate Solutions (64.7%) currently accounts for the majority of revenues and is the main driver of the company's revenue growth. The segment grew by 54% in Q3 2021. Create Solutions accounts for 29.3% of revenue, with growth in Q3 2021 at 34%.
Unity Technologies is actively developing its own products. Recent updates include:
The launch of the new Unity Gaming Services platform. It includes all the basic tools covering backend, monetisation, user engagement and player i nteraction areas. The updated version is expected to make it easier for developers to launch cross-platform multiplayer games, thus saving both time and money.
Deploying Unity Mediation on the Unity Ads network. This product aims not only to expand Unity Ads capabilities, but also to improve the effectiveness of its advertising products. Such an expansion can help Unity maintain the financial momentum it currently has in the Operate Solutions segment.
In addition, Unity recently acquired Parsec for $320 million. With Parsec's solutions, Unity will be able to provide customers with a more convenient option for collaborative remote game development. In other words, developers will be able to work together on projects regardless of their location - a much sought-after feature in the current environment.
Further development of the Unity platform products will help maintain its leadership position in the market and maintain both high growth rates and customer loyalty.
Development of the Metaverse business line as a significant driver of the company's growth
It will take millions of content creators to populate the meta universe. Unity is one platform that has the ability to provide creators with the tools they need to make this happen.
The company continues to expand its toolset and in doing so increases its competitiveness. To that end, Unity recently signed an agreement to acquire Weta Digital for $1.6 billion. The deal will significantly expand functionality for artists, allowing them to create more complex and realistic objects. Weta Digital's technology has been used to recreate characters and scenes from iconic films such as Avatar, Lord of the Rings, and Game of Thrones.
In addition, the Unity platform began providing the ability to use AR/VR solutions to create immersive 3D applications and simulate virtual worlds, in which developers can train artificial intelligence models for further application in robots and in-car autopilots as early as 2019. And in 2021, Unity went even further, launching the ability to create synthetic datasets on which AI training becomes faster and more efficient. Management believes the solution could be in demand among companies in manufacturing, retail and security.
Because Unity can provide developers with a wide range of tools for creating and rendering meta-universes, the company will significantly expand its own addressable market in the long run, which will reflect on its value in a positive way.
Positive trends in key metrics and financial results
It is worth noting that Unity Technologies still makes a loss, but it demonstrates steady growth in key metrics. The company maintains a high Dollar-based net expansion rate, which was 142% in Q3 2021. In addition, the number of large customers with a check over $100,000 reached 973, up 31.7% from last year.
Since the beginning of the year, the company's revenue increased by 44% to $794.7 million while its operating and net loss reached $385.9 million and $370.9 million respectively from $194 million and $198.7 million last year. This was mainly due to the growth of R&D and Sales and marketing costs, through which the company actively develops its product and expands its customer base. In other words, the growth of the company's losses is a justified measure as it continues to aggressively expand its own market share.
Unity has a stable financial position. The company has $1.28 bln of available liquidity and no debt. Operating Cash Flow amounted to $43.6 million in the third quarter of 2021, compared to $20.6 million a year earlier. In turn, Free Cash Flow (FCF) amounted to $34.2 million, which is three times higher than last year's level. Thus, Unity has no problems with liquidity shortage, so the company has an opportunity to continue implementing its strategy of inorganic growth through M&A deals.
The company's management raised its revenue growth forecast to 40% in 2021, which is a positive signal for investors. Currently, the EV/S multiple of Unity is valued high relative to peers, with the indicator standing at 41.1x. This is due to the fact that investors are banking on the company maintaining the current revenue growth rate over the next few years. Management estimates the current addressable market at $29 bn, with Unity's current annual revenues reaching $1 bn. Should the company achieve $3-4 bn in revenue over the next 2-3 years, the company's current valuation may prove to be attractive for investment.
Several investment firms and banks raised their targets on Unity stock in November:
Morgan Stanley - $130
Barclays - $162
Wedbush is $175
Piper Sandler - $180
Credit Suisse Group - $185
Oppenheimer - $185
How to take advantage of the idea?
Buy the stock at $140.
Allocate no more than 2% of your portfolio for purchase. To compile a balanced portfolio, you can use the recommendations of our analysts.
Sell when the price reaches $185.
How to Buy Unity Technologies?
If you don't have an investment account yet, open it now: this can be done online, in just 10 minutes. All you need to do is fill out a short form and verify your account.
After opening an account, you can buy shares in either of the following ways:
Freedom24 Web Platform: In the Web Terminal section, type U.US (Unity Technologies ticker in the NYSE) in the search box, and select Unity Technologies in the results. Open a secure session in the trading window on the right, select the number of shares you want to buy, and click Buy.
Freedom24 iPhone or Android App: Go to the Price screen and tab the search icon in the top right corner. In the search dialog that will show up, type U.US (Unity Technologies ticker in the NYSE) and select Unity Technologies in the search results. You will then see the stock in the market watch; tap it and go to the Order tab in the dialog that shows up. Specify the number of shares you want to buy and click Buy.

*Additional information is available upon request. Investment in securities and other financial instruments always involves risks of capital loss. The Client should make himself aware at his own accord, including to familiarize himself with Risk Disclosure Notice. Opinions and estimates constitute our judgment as of the date of this material and are subject to change without notice. Commissions, fees or other charges can diminish financial returns. Past performance is not indicative of future results. This material is not intended as an offer or solicitation for the purchase or sale of any financial instrument. The opinions and recommendations herein do not take into account individual client circumstances, objectives, or needs and do not constitute an investment advice service. The recipient of this report must make their own independent decisions regarding any securities or financial instruments mentioned herein. Information has been obtained from sources believed to be reliable by Freedom Finance Europe Ltd or its affiliates and/or subsidiaries (collectively Freedom Finance). Freedom Finance Europe Ltd. do not warrant its completeness or accuracy except with respect to any disclosures relative to the Freedom Finance Europe Ltd. and/or its affiliates and the analyst's involvement with the issuer that is the subject of the research. All pricing is indicative as of the close of market for the securities discussed, unless otherwise stated.
https://investors.unity.com/

https://www.cnbc.com/

https://www.theedgemarkets.com/article/report-metaverse-us8-trillion-addressable-market-says-morgan-stanley

https://finance.yahoo.com/news/metaverse-economy-could-value-30-183000883.html

Freedom Finance analysts perform a three-stage analysis. They select a promising industry based on the latest news, statistics and industry-specific metrics. They assess the supply and demand situation and its future development dynamics. Industry's investment attractiveness is mostly affected by the forecasted market growth rates; total addressable market, player concentration level and likeliness of a monopoly formation, as well as the level of regulation by various entities or associations.

The assessment is followed by the comparative analysis based on the selected sample. The sample comprises companies with a market capitalization of over USD 1 billion, but there is space for exceptions (when the suitable level of liquidity for company's securities is available on the stock exchange). The selected companies (peers) are being compared against each other based on multipliers (EV/S, EV/EBITDA, PE, P/FCF, P/B), revenue growth rates, marginality and profitability (operating income margin, net income margin, ROE, ROA), and business performance.

Having completed the comparative analysis, the analysts carry out a more in-depth research of the news about the selected company. They review company's development policy, information about its current and potential mergers and acquisitions (M&A activity), and assess the efficiency of company's inorganic growth and other news about it over the past year. The main objective at this stage is to identify the growth drivers and evaluate their stability, as well as the extent of impact they have on the business.

Based on all the data collected, the analysts determine the weighted forecasted figures of company's growth rates and proposed business marginality, which are used to calculate the company's multiplier-based estimated value. The said value enables setting the stock price target and stock value growth potential.

The expected timing of the idea implementation is set depending on the current market situation, volatility level and available forecasting horizon for industry and company development. The forecasting period is normally set between 3 and 12 months.