Roblox, the new beneficiary of the meta verse: the company's shares could rise by 36%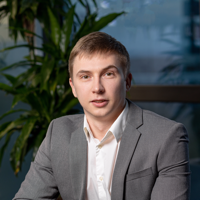 Max Manturov
Head of investment research regulated by CySec
21.12.2021
Roblox, the new beneficiary of the meta verse: the company's shares could rise by 36%
The popularity of metaverses continues to grow. The potential of virtual reality technologies is increasing exponentially. In a previous investment idea, our analysts already wrote about the main beneficiary of the metaverse market, Unity Technologies (U.S.).
Roblox Corporation (RBLX.US), another potential player in the metaverse market, is offering its unique multipurpose online gaming platform. In this investment idea, we will take a closer look at this company and identify all the triggers that enable it to take its place among the market leaders.
Active business development
Ticker:
RBLX.US
Entry price: $95
Target price: $130
Potential: 36.8%
Timeline: 6 months
Risk: High
Position size: 2%
The company
Roblox Corporation (RBLX.US) is the developer of a multiplayer gaming platform called Roblox. Here users can create their own games as well as play those created by other platform members. Every player can find something for themselves: virtual worlds cover a huge range of genres, from card contests to races, role-playing games, arcades and simulations.
A competitive business model for the enterprise
Roblox Corporation has developed its own business model, which has significantly expanded its audience during the Covid-19 pandemic. The online platform was able to connect the two sides of the game world: the creators and the players.
The platform itself is simple - no programming skills are required to create your own game. A wide range of people can come up with, and produce, games thanks to the ease of working with the virtual environment. Even children are able to develop their own game, and it is with them that the online platform has become particularly popular.
Roblox offers developers ready-made software tools (Roblox Studio) to help create the perfect multiplayer online game. Access to most games is free, which increases the popularity of the platform and attracts a huge number of new players.
The games are monetised using Robux in-game currency that players purchase with real money. It can be spent on unique in-game items or to enter exclusive virtual universes. The platform incentivises developers and gives them a portion of the realised funds, which they can exchange for real money. Developers are only paid in Robux currency when players purchase something from the games, so the developer bears the full risk of the time and resources spent.
This is the business model that allows Roblox to be successful, as it allows for a stable cash flow with as many active players as possible. The platform provides a large number of different game universes available, at the same time developers have an incentive to come up with paid resources for games in order to increase their earnings.
The company has already surpassed a critical audience size, reaching 47.3 million users in the third quarter of 2021, with a stable cash flow of $170.6 million. Thanks to the factors above, the company can forecast its own level of liquidity and make clearer growth plans accordingly.
Roblox attracts adult audiences and expands monetisation methods
The main problem with the Roblox online platform is its core audience is under 13 years old, which was 48% of the total number of users in the third quarter of 2021. But recently the situation has changed, with an increase in the number of players in the 17-24 age category. Several reasons have contributed to this:
The online platform Roblox has begun to focus not only on children's games, but also on developing entertaining metaclasses for the older generation. A number of games have been categorised as 17+. For example, developments based on the popular series "Squid Game" have been in demand. One of them, Red Light, Green Light, attracted 27.6 million players.
Roblox has been noticed by popular brands, who have decided to develop their own meta-villages to promote and advertise their products. Vans, Nike, Gucci and Hyundai were among such companies.
In September 2021, Roblox launched a Listening Party feature that allowed popular artists to give music presentations. Fans were able to interact with their favourite artist in the virtual world. Twenty One Pilots, Lil Nas X, KSI and Poppy have already held their concerts on the online platform. Lil Nas X (more than 30 million participants) and KSI (more than 17 million viewers) were the most successful.
Roblox was able to settle claims from the National Music Publishers' Association, which will allow it to further develop its music presentation business. In addition, the platform has already signed a contract with Sony Music. Its aim is to attract famous artists, who will now be able to hold their concerts on Roblox.
New destinations targeting an adult audience will allow Roblox to generate additional revenue from native advertising and virtual products.
Growth in key metrics and financial performance
Roblox continues to gain momentum, increasing its financial performance. For example, in the third quarter of 2021, DAU grew by 4.1 million users to 47.3 million. 2.2 million players come from APAC countries, with 2.4 million of the new players over the age of 13. Roblox recorded a new record for the total time spent by users on the virtual site with 11.84 billion hours.
Bookings Y/Y in the third quarter rose by 28% to $637.8 million, while Average Bookings per DAU decreased by 2% year-on-year. This was due to the inflow of new users from countries with low paying capacity, which eventually diluted the indicator slightly.
In terms of financial results, Roblox maintains a high growth rate. In the third quarter of 2021, the company's revenue increased by 102% to $509.3 million, while its net loss increased by 52% ($74 million). This was due to an increase in costs for the following items:
Developer exchange fees - the number of developer exchange fees increased by 52% over the year, and in the third quarter they accounted for 26% of total revenue.
Expenditure to improve platform reliability (Certain Infrastructure and Trust & Safety) - this figure rose by 59% year-on-year, in the third quarter accounting for 16% of total revenue.
Research and development - up 167% year-on-year and 27% of total revenue in the third quarter.
The increase in these costs is justified as the company is growing, which constantly requires substantial investments. Roblox's losses are temporary, as the company has no liquidity problems. It currently has $1.925 billion in free cash on its balance sheet and no debt. The FCF is a good indicator of the company's stability. In the third quarter of 2021, it reached $170.6 million.
In terms of key multiples, the online platform is priced quite high - EV/S is 34.5x and P/FCF is 98.9x. However, this is justified as investors are laying down continued high growth rates for the next few years.
Investment companies set the following targets for Roblox shares in November and December 2021: BTIG Research - $133, Morgan Stanley - $150, Stifel Nicolaus - $134, Atlantic Securities - $125, KeyCorp - $125, Needham & Company LLC - $136.
The investment idea carries increased risk with the removal of quarantine restrictions and the return of the platform's core audience to educational institutions. An additional risk could be the restrictions imposed on gaming companies in China, and this market is very significant for Roblox.
How to take advantage of the idea?
Buy shares at a price of $95.
Allocate no more than 2% of your portfolio for purchase. To compile a balanced portfolio, you can use the recommendations of our analysts.
Sell when the price reaches $130.
How to Buy Roblox Corporation?
If you don't have an investment account yet, open it now: this can be done online, in just 10 minutes. All you need to do is fill out a short form and verify your account.
After opening an account, you can buy shares in either of the following ways:
Freedom24 Web Platform: In the Web Terminal section, type RBLX.US (Roblox Corporation ticker in the NYSE) in the search box, and select Roblox Corporation in the results. Open a secure session in the trading window on the right, select the number of shares you want to buy, and click Buy.
Freedom24 iPhone or Android App: Go to the Price screen and tab the search icon in the top right corner. In the search dialog that will show up, type RBLX.US (Roblox Corporation ticker in the NYSE) and select Roblox Corporation in the search results. You will then see the stock in the market watch; tap it and go to the Order tab in the dialog that shows up. Specify the number of shares you want to buy and click Buy.

*Additional information is available upon request. Investment in securities and other financial instruments always involves risks of capital loss. The Client should make himself aware at his own accord, including to familiarize himself with Risk Disclosure Notice. Opinions and estimates constitute our judgment as of the date of this material and are subject to change without notice. Commissions, fees or other charges can diminish financial returns. Past performance is not indicative of future results. This material is not intended as an offer or solicitation for the purchase or sale of any financial instrument. The opinions and recommendations herein do not take into account individual client circumstances, objectives, or needs and do not constitute an investment advice service. The recipient of this report must make their own independent decisions regarding any securities or financial instruments mentioned herein. Information has been obtained from sources believed to be reliable by Freedom Finance Europe Ltd or its affiliates and/or subsidiaries (collectively Freedom Finance). Freedom Finance Europe Ltd. do not warrant its completeness or accuracy except with respect to any disclosures relative to the Freedom Finance Europe Ltd. and/or its affiliates and the analyst's involvement with the issuer that is the subject of the research. All pricing is indicative as of the close of market for the securities discussed, unless otherwise stated.
https://ir.roblox.com/overview/default.aspx

https://www.nmpa.org/

Freedom Finance analysts perform a three-stage analysis. They select a promising industry based on the latest news, statistics and industry-specific metrics. They assess the supply and demand situation and its future development dynamics. Industry's investment attractiveness is mostly affected by the forecasted market growth rates; total addressable market, player concentration level and likeliness of a monopoly formation, as well as the level of regulation by various entities or associations.

The assessment is followed by the comparative analysis based on the selected sample. The sample comprises companies with a market capitalization of over USD 1 billion, but there is space for exceptions (when the suitable level of liquidity for company's securities is available on the stock exchange). The selected companies (peers) are being compared against each other based on multipliers (EV/S, EV/EBITDA, PE, P/FCF, P/B), revenue growth rates, marginality and profitability (operating income margin, net income margin, ROE, ROA), and business performance.

Having completed the comparative analysis, the analysts carry out a more in-depth research of the news about the selected company. They review company's development policy, information about its current and potential mergers and acquisitions (M&A activity), and assess the efficiency of company's inorganic growth and other news about it over the past year. The main objective at this stage is to identify the growth drivers and evaluate their stability, as well as the extent of impact they have on the business.

Based on all the data collected, the analysts determine the weighted forecasted figures of company's growth rates and proposed business marginality, which are used to calculate the company's multiplier-based estimated value. The said value enables setting the stock price target and stock value growth potential.

The expected timing of the idea implementation is set depending on the current market situation, volatility level and available forecasting horizon for industry and company development. The forecasting period is normally set between 3 and 12 months.